All Things Considered Theatre Company strive to create beautiful, challenging theatre that is both meaningful and purposeful. This is evident from their current offering Wake Up Maggie (presented as part of the ever growing Liverpool Fringe Festival), as the company's founder and artistic director Emma Bramley and associate artist Stuart Crowther grapple with the nuance of social class and the North South divide.
The autobiographical performance intersects Bramley's experiences as a socially confused Southerner (cut her and she bleeds 'dole cues and holidays in the South of France.') with Crowther's more conventional Northern working class background ('a casserole of baked beans, blitz spirit and Blackpool pleasure beach'). The pair share stories against a backdrop of popular culture references and a soundscape of anthemic karaoke.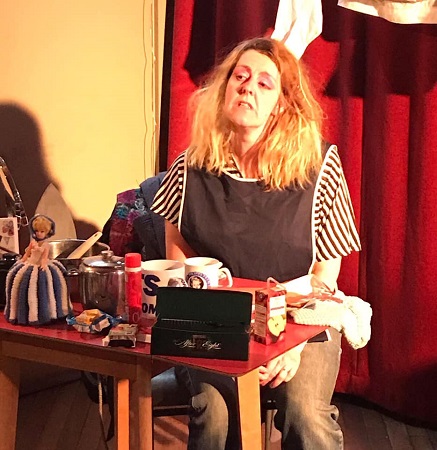 There is a running joke about the construction of self as Crowther and Bramley question one another – 'Is that true or a lie?' – fracturing the narrative and exposing the stories we tell to fit in. This also gives the pair an opportunity to expose the audience's own social bias and preconceptions, as Crowther and Bramley quote Guardian articles and the unending stream of Facebook quizzes, which offer to provide a definition of identity in an increasingly fractured world.
From the moment the audience enter the space class lines are drawn, as they are invited to select a sticker of Ethel Skinner and Willy (Eastenders), Hyacinth Bucket - pronounced 'Bouquet' - (Keeping Up Appearances) or Margo Leadbetter (To The Manor Born).
The show is a wonderful celebration of growing up in the eighties and nineties and the contradictions of class – Crowther's hangout of choice, along with most of his contemporaries, was the Castleton Moore Conservative Club – with a delightful celebrity cameo that resonated with audience members old enough to recall their teenage crushes! Crowther's lyrical verse is rich and humorous evoking familiar Northern images and having a dig at his drama school voice classification of 'uneducated Northern'.
Whilst Bramley's honest and engaging performance is layered with pathos, even as we laugh at the image of her searching through bin bags of hand-me-downs in the desperate hope of a Tammy Girl dress, or drinking knock-off coke in the pub with her dad.
This is a beautifully judged show that is nostalgic without rose tinting the reality. As the company strive to socially engage their audiences they will no doubt be aware that studies show that nostalgia can enhance feelings of social connectedness, something that is increasingly important in times of austerity, lit by smartphone lights with the ever present undercurrent of Brexit.
Now if you will excuse me, I've got to feed my Tamagotchi before I watch My So Called Life and eat Vice Versas.
Reviewer: Clare Chandler
Reviewed: 6th June 2019
North West End Rating: ★★★★★