Last Appointment, written by John Mc and directed by Zara Marie Brown, is about Alice (Mairi-Claire Kennedy), a mother dealing with the effects of abuse.
We first meet her reading a letter, the crash of waves resonating in the background, before she calls a therapist, Stuart (Damien Rowe), to make that first appointment, at which we discover her marital problems and her adverse reaction to a seemingly innocuous remark from her husband.
Through subsequent appointments we learn of her wayward daughter, the strain on her marriage, and her concerns over her daughter's behaviour. As she gets to know Stuart better, she begins to open up more about her own childhood and its parallels to that of her own daughter's start to become clear.
Is history repeating itself? How do you stop a cycle of abuse? Will Alice be able to resolve her own issues, and if she can, will it resolve her daughter's? Can any of us ever find peace?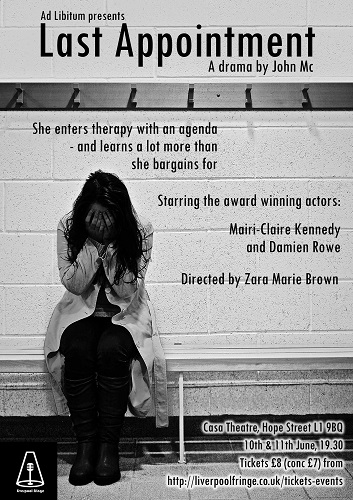 This is a powerful piece of writing, based as it is on Mc's meetings with survivors of childhood abuse, and in many respects, since it first appeared some twenty years ago, has perhaps served to exorcise many of those past ghosts. Sadly, as we all know, new ghosts will continue to appear. The language is rich in detail, not surprising given the stories it reflects, and all the more credible for it, which without giving anything away, had me hooked from the first moment.
Writing great lines is one thing, but they have to be delivered well and in that regard we were not let down, far from it in fact. Kennedy captures every mood and seam of Alice, a woman holding it together whilst her life – past; present; future – crashes around her in a raw and emotional performance that still allows her to exhibit some control over aspects of it. I was exhausted watching her, she must be absolutely drained.
Rowe offered the perfect foil, the behaviour and mannerisms of a therapist caught perfectly as the sessions began, before we saw the troubled waters begin to bubble across his face as Alice's past begins to surface and he is forced to confront his own inner demons.
The Casa can be a challenging venue and many a company has suffered by not doing their research. No such worries here as Brown had clearly done hers as it was powerfully staged with a minimalist simplicity that served only to add further to the depth of each appointment. The clever use of light and colour to allow Alice's past recollections to break out along with an inspired and intelligent spin on the casting roles, was mesmerising and frightening in equal measure; augment that with unexpected prop-generated sounds and those memories become deeply imprinted.
This is a powerful play that handles dark issues with great sensitivity whilst not steering away from the harsh realities that arise as a result. It is at times uncomfortable viewing and it will tear at each and every one of your emotions. That is what great theatre does. Go and see it.
The Casa Bar and Venue at 29 Hope Street is at the heart of the University/Theatre district. Further details available at http://www.casatheatre.co.uk/
Ad Libitum Theatre Company is a vehicle for the writing, acting, and directing talents of John Mc, the sole permanent member currently, with Last Appointment its inaugural production. I look forward to future work with great anticipation.
Last Appointment performs once more at The Casa on 11th June at 19:30. Tickets are priced at £8 (£7 concession).
Reviewer: Mark Davoren
Reviewed: 10th June 2019
North West End Rating: ★★★★★