Think it's a solo show? Think again. Private Eye Butt Kapinski (Deanna Fleysher) invites you to co-star in a film noir choose-your-own-adventure murder mystery set in a seedy world riddled with sex, sin, shadows, and subterfuge. Or Liverpool on a wet and windy Tuesday night.
Kapinski appears on cue in Bogart-style mac, eyes caked in make-up to accentuate every look and stare which is drawn out through the only lighting: a large anglepoise lamp rising up from the back of the trenchcoat, which in turn is used to search the scattered in-the-round seating plan of Unity Two for characters to play parts in this evolving story.
The laughter is immediate as Kapinski's hilariously exaggerated speech impediment comes to the fore and it was most definitely clear – or should that be queer – that it was 'waining in Wiverpoow' tonight.
There were clever points raised as we scurried from one grisly sex murder to another, whether it was the politicians and businessmen in bed together, to the sick and twisted red light district where Kapinski's love interest, Lola the Whore (or should that be Wowa the Howa), was hanging out amongst the poor, and hobo's used to living by the railroad track got to become Uber taxi drivers.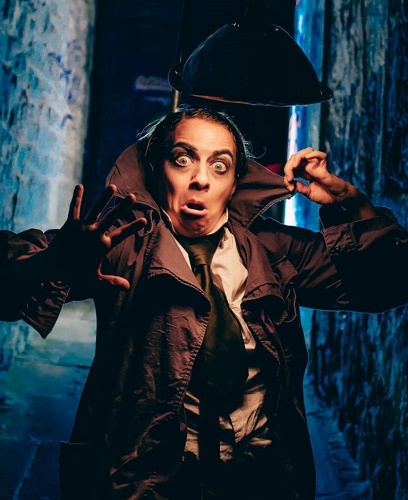 And having been subdued by laughter our boundaries were pushed further and further and yet we all continued to laugh; no one was politically correct anymore and what a relief that was. Who'll care to remember that in the morning when they recount the tale may well be a different matter.
We made the ending – this time it was the priest whodunnit – but can you have a film noir without a twist? When it finally came it was unexpected and was a deserving send off for a hard-working and incredibly talented artist who did that wonderful thing of fully connecting with her audience.
Is the show dependent on the support in the room? Yes, but Fleysher conducts the whole evening such that it is far more than mere audience participation, its immersive comedy and we the audience are her orchestra. And for this reviewer? Well just call me Nina from now on…
Did it help that there were a lot of creative types in? Perhaps but Fleysher handles the room with sensitivity so no one is made to feel uncomfortable, and some people got quite carried away. Literally.
And boy did we create some laughter despite the various murders across town – at one point the whole room was involved and happily so. There's a skill in that alone which Fleysher demonstrates she most definitely has with this brilliantly inventive and hilarious piece of theatre where no show will ever be the same.
unitytheatre is Liverpool's small-scale theatre with big ambitions to showcase challenging, innovative, risky and unusual work. Further details on this and their work with the local community can be found at www.unitytheatreliverpool.co.uk
Physical Fest is Tmesis Theatre's international physical theatre festival. A 6-day festival presenting performance, workshops, a conference and bursaries for the creation of new work, with incredible international artists and UK premieres. A celebration of the rich variety of local, national and international contemporary physical work, the only festival of its kind in the UK. The festival is funded by the Arts Council England and Liverpool City Council. Further details https://www.tmesistheatre.com/physical-fest/
Butt Kapinski performs at Unity Two on Thursday 13th June at 8pm. Be quick because tickets are moving fast. https://www.unitytheatreliverpool.co.uk/whats-on/butt-kapinski-19.html
Reviewer: Mark Davoren
Reviewed: 11th June 2019
North West End Rating: ★★★★★