June 2019 sees the return of Physical Fest, the international festival of physical theatre held in Liverpool in its new format of a biennial, combining performances and workshops from local and international artists and companies. Also new this year is the decision to have an international residency artist, award winning Izumi Ashizawa, who kick starts the performance side of the festival with the piece 'I Cried Because I Had No Shoes Until…' created and performed by herself and Matthew Austin.
Based on the saying, ' I cried because I had no shoes until I met a man who had no feet', the piece is a collection of shorter pieces linked together through the exploration of the theme of shoes in gender and racial politics, particularly apt given the recent protests in Japan about high heels being compulsory for women at work.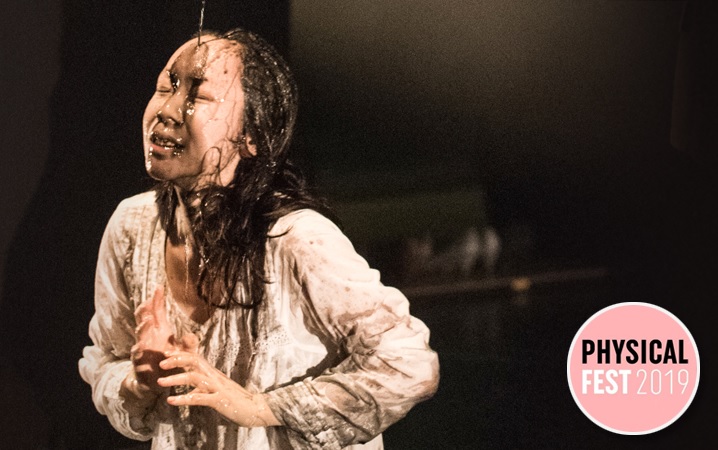 Indeed, shoes have frequently played a role in story telling – from Cinderella's glass slippers, the fairy tale/film 'The Red Shoes', the ruby slippers from The Wizard of Oz, and more recently the smash hit musical Kinky Boots. As every woman knows, shoes are so much more than mere footwear; even in Ancient Egypt, shoes were a status symbol with different social classes being allowed restricted to different types, and today, whether Air Jordans or Manolo Blahniks, they can play a similar role.
Here, shoes take centre stage, literally, with the initial set showing a pair of red stilettos under the spotlights in a glass display case, in the first of the vignettes that combine elements of Japanese Bunraku and Kabuki theatre Thus, we first see the main character, a British male (Matthew Austin), camera in hand, approaching the shoes to photograph them. He is followed by Ashizawa dressed in a white kimono, who, on first putting on the shoes, demonstrates her delight, but when she subsequently becomes the focus of the male gaze, she transforms into a Kurogo, where the stage hand/puppeteer wears black to become 'invisible', so that the action is focused on the prop or puppet. Subsequent action is based on the relationship between the characters and the shoes in a sometimes humorous, sometimes surreal exploration of shoes and what they can represent.
Enhanced by excellent live music and atmospheric lighting, this is a remarkable piece of theatre and sets the tone for what will surely be an excellent festival, with something for everyone.
Reviewer: Johanna Roberts
Reviewed: 11th June 2020
North West End Rating: ★★★★