Lost Soul 2: Smigger's Wrecked Head, is the sequel to Dave Kirby's successful story of love, marriage and soul music in Liverpool. Reprising much of the original cast and directed by Bob Eaton, it is the story of Smigger's (Andrew Schofield) struggle to come to terms with getting older and becoming a grandfather.
Babysitting daughter Amy's (Gemma Brodrick) baby, Fernando every weekend means that Smigger and his wife, Donna's (Lindzi Germain) Sunday evenings at Smokie Mo's have become a thing of the past. Adding to the stress is Amy's disrespectful boyfriend, Charlie (Bobby Schofield) and Smigger's best friend Terry (Jake Abraham) and his wife, Pat (Catherine Rice) behaving like lovesick teenagers after their recent reconciliation. Fed up, Smigger decides he's going to go out on Sunday nights, with or without Donna.
The dance floor at Smokie Mo's is ready and waiting and the soul tunes are playing, but Donna won't put up with being left holding the baby every weekend. When she reaches the end of her tether and tells Smigger to grow up and behave like a proper Grandad, he finally falls off the edge and walks out of the family home.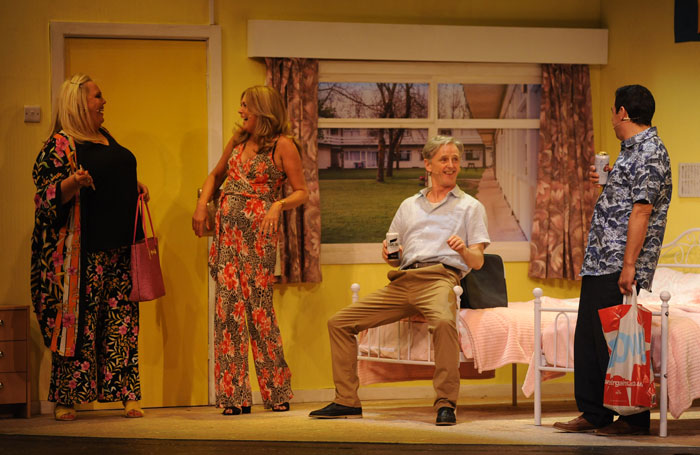 Will he and Donna ever be able to make up and return to their beloved Smokie Mo's to drink and dance the night away?
Smigger's Wrecked Head is a funny and tender tale of middle aged angst and nostalgia. Filled with hilarious one liners and local humour throughout, it incorporates all of the best things we have come to expect from a Royal Court production including an emotional core which will cause some tears to be mixed with the laughter.
The set makes full use of the revolving stage making moves between Smigger's home, Smokie Mo's and various other locations quick and simple. The soundtrack of the show has been cleverly arranged so that the lyrics of the tracks used reflect the plot and emotion of the scenes. This adds lovely layers to the shows, particularly adding depth Smigger's struggle to articulate his feelings.
Andrew Schofield's portrayal of Smigger is excellent. His ability to combine feelings of emptiness with sharp and witty comedy is wonderful. He performed several monologues throughout the piece which were engaging and beautifully combined comedy with deeper emotions.
Germain's performance as Donna is brilliant. Creating a sense of a woman who both wants to stay at home and babysit her beloved grandchild, and go out on the town to dance to classic seventies music, she has created a very sympathetic and identifiable character.
Bobby Schofield's performance as the rude and aggressive Charlie is very funny. The clashes between him and Andrew Schofield were particularly good, using physical comedy and aggression to create tension.
Lenny Wood, playing the Barman, Shane was hilarious with a performance reminiscent of Dougal in Father Ted. Using physical and verbal comedy to full effect, Wood was particularly memorable in a play where each member of the cast deserves praise for their excellent performance.
Smigger's Wrecked Head is a delightful comedy, combining scouse wit, disco dancing, soul music and middle aged angst, which will have you laughing and crying throughout.
Lost Soul 2: Smigger's Wrecked Head is being performed at the Royal Court until 6 July 2019. Tickets are available here https://liverpoolsroyalcourt.com/whats-on/lost-soul-2-smiggers-wrecked-head/
Reviewer: Donna M Day
Reviewed: 12th June 2019
North West End Rating: ★★★★