'Two years we've been doing this show, and I'm still making Donald Trump jokes!'
When Robbie Fowler's (not that one!) mates realise his special talent, they work out it could make him rich and famous, and boy is he going to hit the big time! You see, Robbie can communicate with the dead. Not all of them, though, just Elvis (you know, Eddie from Bootle, he was an Elvis impersonator in Blackpool, who only answers to Elvis). Through him, Robbie can contact anyone on the other side who has passed, and uses this talent to prove to his friends (Karl, Jay and Claire) that it's genuine and not fake. We follow their journey from realisation to informing the press and beyond, rooting for Robbie and Karl all the way. The story is mostly set in Fazakerley in Liverpool, and through the well designed sets, as well as the use of language, it's clear to see that they're almost your average working class scouse lads.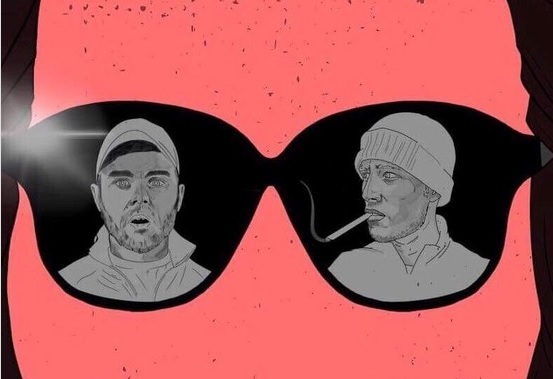 It's always impressive to see actors portraying their characters before the play has even started and Tom Highton as Karl was no exception. He also stayed in character in the auditorium through most of the interval too, engaging with the audience being the likeable, if a bit dim, character! Will Smith was endearing as Robbie and you definitely were backing him all the way and wishing him well! Al Donohoe is one of the better Elvis impersonators I've ever seen, effortlessly switching between talking and singing and the voice was pretty spot on. Liam Powell-Berry as Jay was totally believable, if scary in parts, making you wish you never have to deal with a Jay in real life! Claire, Faye Caddick, was likeable and you wished her a better life than the one she starts with at the beginning of the play, and the supporting ensemble of Callum Forbes (Michael), Rev Edwards (Eric) and Lisa Daintry all provided support and contrasts in this ensemble piece.
You could tell the production team all worked equally as hard with this play, with direction from Mike Dickinson, designs by Sophie Jones-Davies, Choreography by Abbi Henderson and Stage Management by Catherine Ainsworth, the cast were all slick and cohesive and it was easy to tell the difference in scenes or movements through their hard work.
Overall, the play was fun and enjoyable, if not one for the feint hearted or easily offended!
Reviewer: Jenn McKean
Reviewed: 13th June 2019
North West End Rating: ★★★★