Performed and choreographed by Rowena Gander The Ten Inch Heels explores whether high heels promote or dissolve female subordination and sexualised and exaggerated feminity. Gander uses an intimate setting (twelve chairs are positioned in a semi-circle with additional audience stood behind) to explore the power dynamic between the performer and the spectator, as she swishes, crawls, curls and slides amongst the audience.
This is an arresting performance, Gander is resplendent in black, the ten-inch heels of the title are lace up boots and for much of the performance Gander's face is obscured by her blonde hair. The audience are evidently uneasy as she refracts their gaze and explores the spectrum of empowerment and objectification, contrasting the perceived softness of femininity with hyper-sexualised and aggressive imagery.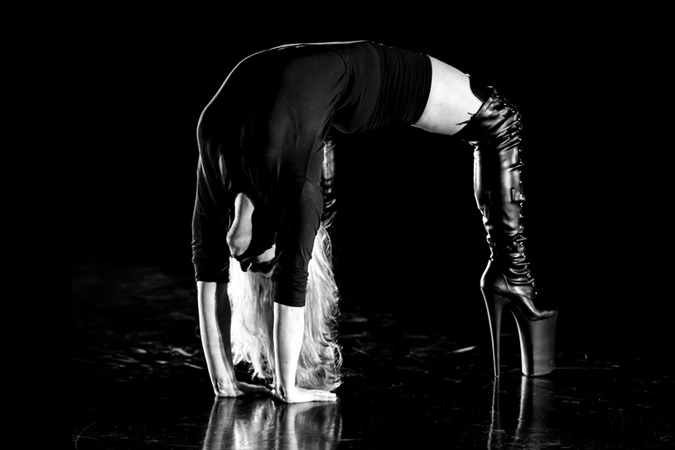 Usually, intimate settings provide opportunities for deeper connection with the performers, and a comment from reviewers about being able to see the whites of their eyes. This is not the case here due to Gander's hair, however, the lack of eye contact encourages the audience to connect with the other elements of her performance and engage with the politics that underpin it.
The show is not without humour, Gander toys with the audience and often finds their responses wanting. The performance also evokes the original darker version of The Little Mermaid as Gander struggles to walk in the extreme footwear and at one point brushes her hair with a heel! Evidently a work in progress, there is scope for further development and exploration here (the use of breath to accompany the movements is especially arresting) but Gander has the makings of a really interesting piece here.
Reviewer: Clare Chandler
Reviewed: 14th June 2019
North West End Rating: ★★★ (Work in Progress)