A summer landing at the Empire, the Club Tropicana tour has arrived in Liverpool. Packed with hit 80s tunes, this jukebox musical starring Joe McElderry, Amelle Berrabah and Kate Robbins promises toe-tapping tracks and a night of sunny fun.
Written by Michael Gyngell, the unapologetically predictable storyline follows after Lorraine (Karina Hind) jilts husband-to-be, Olly (Ben Darcy), on her wedding day and jets off to Spain. Yet the pair and their friends both end up at the same hotel, where evil inspector Christine (Camilla Rowland) is doing everything she can to drag the Club Tropicana into the ground. We watch as the farcical drama unfolds, finding out if the pair will find true love and if Serena (Berrabah) and Robert (Neil McDermott) can save their hotel.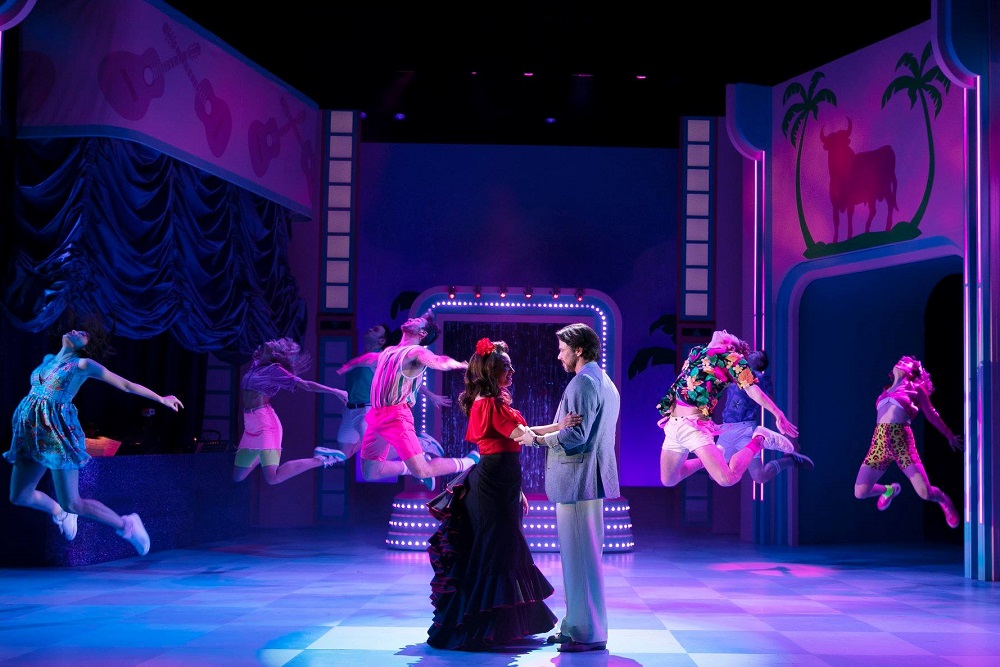 As the female lead, Hind is absolutely brilliant, providing strong singing and dancing throughout- a sensational performer. It was fantastic to see both Darcy and Rowland step in and prove the power of understudies for touring shows as they each gave strong performances. There is no denying the comedic power of Kate Robbins- her ability to manipulate comedic physicality is fantastic and her impressions are rib-tickling. However, it's unfortunate that her character 'Conseula' is that of a rather out-dated humour and arguably offensive- the part could have still held comedic value by being played to Robbins' own accent and ethnicity. It's disappointing to see these kinds of gags and characters still played in theatre.
Similarly, many of the jokes throughout the show did not receive as much of a laugh from the audience as intended, with some often falling a little flat. Perhaps the almost 20-minute pause early into the first half due to a 'technical delay' caused audience members to be detached, but some of the humour was certainly of an acquired taste. Nevertheless, Joe McElderry received a fantastic reception - he plays his audience well and they love him. By the end of the performance (and arguably after some alcohol), he had the audience up on their feet and loving the sing-along.
A soundtrack of hit 80s tunes from Cyndi Lauper to Depeche Mode, Club Tropicana is a live guilty pleasure. Matching the boppy beats, Nick Winston's choreography is a sure saviour of this production, with fun routines that are well executed by a strong ensemble. The show's variety of music is great- it is simply a shame that the comedy is just stuck in the past also.
Club Tropicana makes for a great sunny night out, but not for the family. Many of the jokes are in the poor taste, but visually and vocally the show is enjoyable. Credits to a great cast and choreographer for this fun production.
Reviewer: Jessica Battison
Reviewed: 1st July 2019
North West End Rating: ★★★