The Pantaloons rock up at Speke Hall with their delightful ensemble of skits, songs, and gags, this time turned towards Jane Austen's first novel and despite the high flying attempts of EasyJet and Ryanair – and a few low flying beams as well – to disrupt proceedings, we are served up an enjoyable evening of Regency romp in a society that believes you 'win' by marrying the person with the most money.
Sisters Elinor (Alex Rivers) and Marianne (Maryann O'Brien) along with their mother are somewhat down on their luck and effectively palmed off by their older half-brother when their father dies to live on the estate of a cousin, Sir John Middleton (Neil Jennings). Elinor is disconsolate as she had become close to Edward Ferrars (Jennings), the brother of her half-brother's wife, Fanny, but being the sensible one she hides it well. Meanwhile, Colonel Brandon (Chris Coxon) has taken a liking to Marianne but she is more swayed by the dashing Mr Willoughby (Coxon) who comes to her assistance when she sprains her ankle during a walk.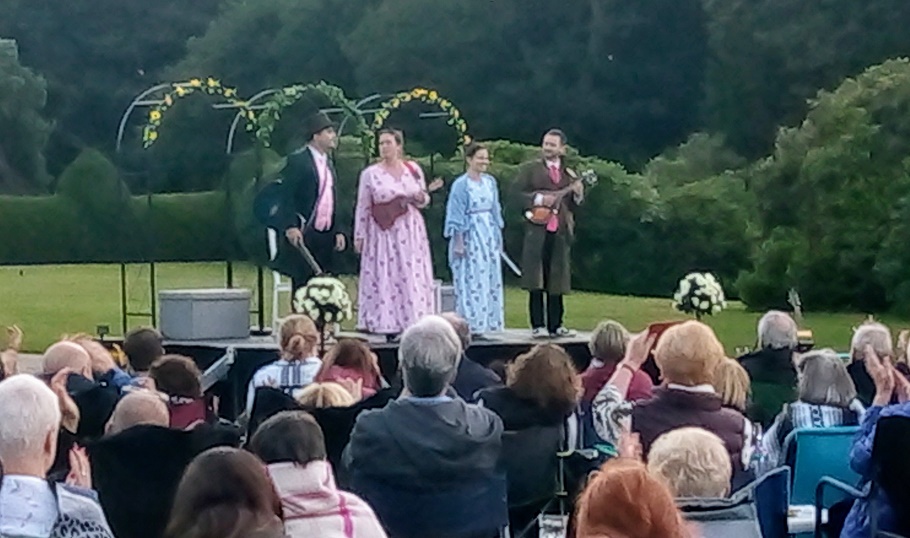 But when the men head off to London on business, all is not as it seems, and when the sisters take a trip to the capital to catch up with them, events soon begin to unravel as do several other young ladies. Throw in those two notorious Regency dangers – rain and wet grass – and one can only wonder whether our two girls are going to survive to the end of the story let alone marry a man of their dreams.
Much credit to writer and producer Mark Heyward who has successfully distilled a 120,000-word novel into just 14,000 words, and with an axe taken to some of the less interesting characters, it all perfectly finesses into two hours of action structured essentially around the original language in this funny and fast-paced adaptation.
With the simplest of staging, our cast of four deliver romance and heartbreak in droves as they capture multiple roles with the slightest of costume adjustment and the support of a willing audience who revel in the good-humoured entertainment. Less is most definitely more although not in the case of the plundered bottles which with barely a drop left in them showed that this audience had become far too experienced of The Pantaloons interactive exploits!
The great thing with all their productions – and this was no exception – is the evident joy the cast are having with the piece, captured perfectly with their tendency to mix it up by occasional ad-libbing to bring the best out of each other. You've got to be at the top of your game to not only do that but to be comfortably on the receiving end, and our four tonight are right up there: this is live entertainment at its best.
The Pantaloons were established at the University of Kent in 2004 by Mark Hayward, Caitlin Storey and Stephen Purcell. They are a young and vibrant theatre company whose style draws from a wide variety of popular theatre traditions. There is a strong element of collaboration, both within the group and with their audience, that is clearly evident with an emphasis on physicality and on audience interaction.
The Pantaloons bring great literature to the stage in a form and fashion that is open to all – from 8 to 80 – and for that alone they are to be commended. Sense & Sensibility is their summer production performing nationwide. An autumn tour of William Shakespeare's Othello is scheduled. Full details on dates and venues throughout the UK and booking information are available at www.thepantaloons.co.uk
Reviewer: Mark Davoren
Reviewed: 3rd July 2019
North West End Rating: ★★★★★