Continuing its celebration of 8 years running, Grin Theatre Company presented the second half of their Pride show, Queertet 2019. This performance, which included new pieces of energetic theatre, is traditionally the curtain raiser to Liverpool's Pride festivities.
Part Two consisted of two short plays and two short monologues specially written for this year's Queertet, with the event hosted by the BBC's charming Daniel Scott.
Before A Fall, written by Will Cooper, kicked the proceedings off to a good solid start. Cooper's intelligent and well-structured script was a deep and meditative piece about friendship, denial and the relationships within family as Nick (Liam Murphy) seeks advice from old friend Ste (Benjamin Keith Hamer). Directed with sensitivity and honesty by James Lee Jarman, both actors gave strong and well-drawn performances with Murphy's heart-breaking monologue outstanding.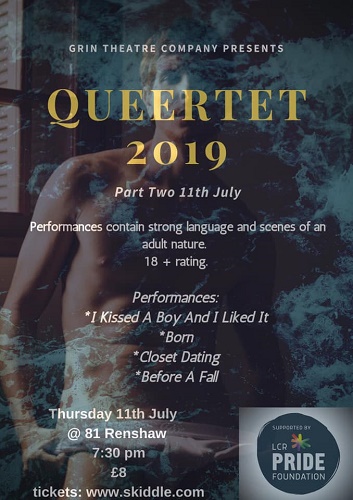 Closet Dating was a short, quirky and fun monologue written and performed by Jarman. Dressed in a short off the shoulder dress – don't ask! – Jarman was mesmerising throughout and had the entire full-house audience in the palm of his hand. Detailing the comedic mishaps attributed to the gay dating scene – or any kind of dating for that matter – it flowed really well, almost in the form of a stand-up comic routine, with a surprising finish which I didn't see coming.
After the interval came another short monologue piece, Born in 14 Parts, written by Grin's artistic director Wes Williams, where we meet Cleo (Nic T Smith) and look at the issues surrounding MTF (male to female) gender reassignment. Directed with flair and sensitivity by Jarman, Smith gave an intense and emotional performance with the audience hooked from the word go on a subject that is very rarely tackled in mainstream theatre, and which has the potential to be developed in to a longer piece to more fully explore Cleo's fabulous story.
Finally, we had I Kissed a Boy and I Liked it, written by Wes Williams and directed by Mycroft Milverton. Tony (Kai Jolley) and Elliot (Dean Horrocks) are two school friends who meet up in a gay bar with one of them discovering things about his own sexuality that he had always kept hidden. Directed with panache and vigour by Mycroft Milverton, the piece crackled and sparkled in equal measure with its witty one-liners delivered through the great performances from both Jolley and Horrocks.
This was a delightful collection of pieces that explored the many facets of LGBTQ+ life in the city and in a society that sadly continues to see more and more negative attitudes and marginalisation towards this community. As Liverpool and Merseyside's only LGBTQ+ fringe theatre company, it is refreshing that Grin continues to provide a diverse and richly varied creative hub for artists from the LGBTQ+ community.
81 Renshaw Street is a café serving up the freshest, heartiest homemade food, to eat in or take away. Their basement record store has thousands of new and second hand as well as collectibles and was enough to make me go and invest in a record player. They provide regular entertainment, such as tonight, with a purpose venue at the rear. Further details http://www.81renshaw.co.uk/
Further information on Grin Theatre can be found at https://www.facebook.com/grintheatre/
Reviewer: Mark Davoren
Reviewed: 11th July 2019
North West End Rating: ★★★★