The hallmark of a good production is if it can take a familiar play and make you look at it anew. This is what happened to me this afternoon, with Imaginarium's production of Romeo and Juliet.
First, the setting is enchanting, under the greenwood tree in Prescot Woodland Theatre. The set itself is excellent – simple but effective - and the lighting, music, choreography, sword fighting, and costumes were all of an extremely high standard.
What this production brought home to me was that Romeo and Juliet were so very, very young. Yes, in those days, girls were married off much younger, but Kieran McCarthy-Hoare and Patricia Hodgson give us the full range of teenage emotions, the impetuousness, the vertiginous ecstasy and profound despair, and the white hot intensity of all their feelings. There is no compromise. The charm and youth with which the characters are conveyed means their supreme confidence that no one else in the world has experienced this before and so no one else will understand them also makes them extremely vulnerable.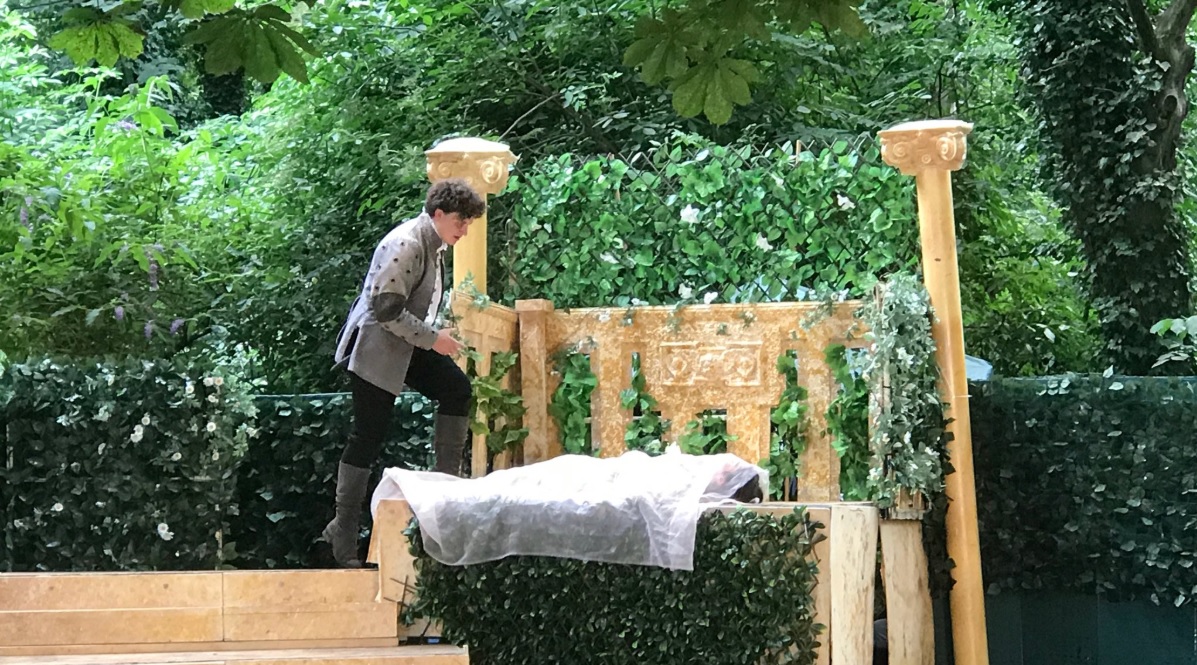 It also underlines the inevitability of their fate. My frustration with Friar Lawrence (David Kernick) for not dragging the teenage Juliet away, or remaining with her, is tempered by the realisation that, as Shakespeare hints throughout, they had to die. Indeed, it is impossible to imagine them growing old.
The lovers are supported by a remarkably strong cast – Mercutio (Connor Simkins), as mercurial as his name suggests, exudes the vivacity and charisma that makes his death all the more devastating for Romeo and the audience while Holly Blue does sterling service as the faithful Benvolio, and gets well deserved applause for her turn with the flaming hula hoop. There was also a strong emphasis on and insight into the dynamics of the Capulet family – Juliet's formal relationship with her parents is highlighted by her more intimate and affectionate relationship with her nurse (beautifully observed by Carmel Skelly). Francesco de la Rocca is convincing as her father and his passionate rage at being crossed gives us a hint of where Juliet gets her steely resolve while Charlotte Holguin's performance as Lady Capulet is phenomenal – her impatience with her wayward daughter will strike a chord with most parents and her heart rending cry at Juliet's 'death' will have those same parents wanting to hurry home and hold their own children close.
There is some tweaking of the script and some improvisation for comic effect, which works well, and some slight alteration of the plot, most notably in the lack of confrontation between Romeo and Paris at Juliet's tomb, but overall it is an insightful and intensely moving performance.
Further performances on 20th July at Crosby Hall, 21st July at Sudley House and 17th August at Royden Park.
Reviewer: Johanna Roberts
Reviewed: 13th July 2019
North West End Rating: ★★★★★