When Shakespeare and his troop of actors would up sticks and set off touring round the country to perform in the open air, they had many things to contend with - the vicissitudes of the English weather, truculent audiences, plague etc.
However, their modern day counterparts coming to the beautiful setting of Speke Hall, while usually untroubled by plague, have the additional hurdle of low flying aircraft to overcome and how well they do it is an indication of their mettle. Three Inch Fools, presenting Much Ado About Nothing, passed with flying colours.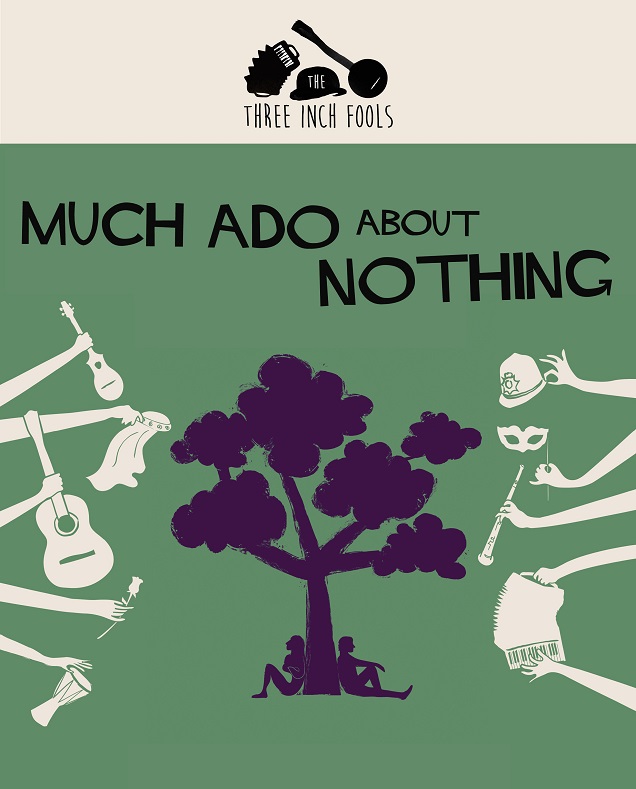 Relevant newcomers to the scene – the company was founded in 2015 – Three Inch Fools have made their mark with a combination of acting and music ideally suited to a comedy like Much Ado, with its combination of light and dark elements and high and low class characters. With only five actors (Hazel Monaghan, Isobel Witcomb, Samuel Nunes de Souza, Emily Waters, and Samuel Freeman), they find inventive solutions to the lack of numbers; there is inevitably a significant amount of swapping of roles, but rather than being daunted, the company use this to their advantage to extract further humour, though I would recommend that those unfamiliar with the play read up on the plot beforehand just so they can appreciate the comedy more. However, despite the humour, at no point do the players lose sight of the potential tragedy at the centre of the action, playing the serious scenes with a tenderness, poignancy, and passion that are utterly convincing. The deceptively simple set and lighting are effective in enhancing the action, allowing the actors to change costume, collect props and instruments (of which there is a remarkable range) and move from scene to song and back again without slowing down the action.
A further challenge with this play is that perhaps more than any of Shakespeare's other comedies, the focus for the humour is on the dialogue. This is not a problem with Dogberry and his slow-witted constables but could be a problem in the rapid exchanges between Benedick and Beatrice. Inevitably, outdoors, the dialogue has to be slowed down simply for it to be heard, but again, the company come up trumps with clear diction, an excellent understanding of the rhythm and flow, and a refusal to be limited to the script, taking opportunities to improvise, to interact with and involve the audience, and to ensure a good time is had by all.
Reviewer: Johanna Roberts
Reviewed: 1st August 2019
North West End Rating: ★★★★