Outdoor theatre is at the mercy of the weather. Earlier today the rain was heavy and I rang The Reader at Calderstones Park to check that everything was still on. "The show must go on, come rain or shine," I was told, and I'm so glad that it did.
The Handlebards are Robin Harris, Mark Collier, Ross Ford and William Ross-Fawcett. They tour the country with all of their set, costumes and props packed onto their bicycles to deliver Shakespeare across the land. It's a unique concept that appeals to the current rise in environmental awareness and adds an extra layer of wholesomeness to the experience. The set is understandably minimal but looks pitch-perfect and lends a tasteful festival atmosphere to proceedings.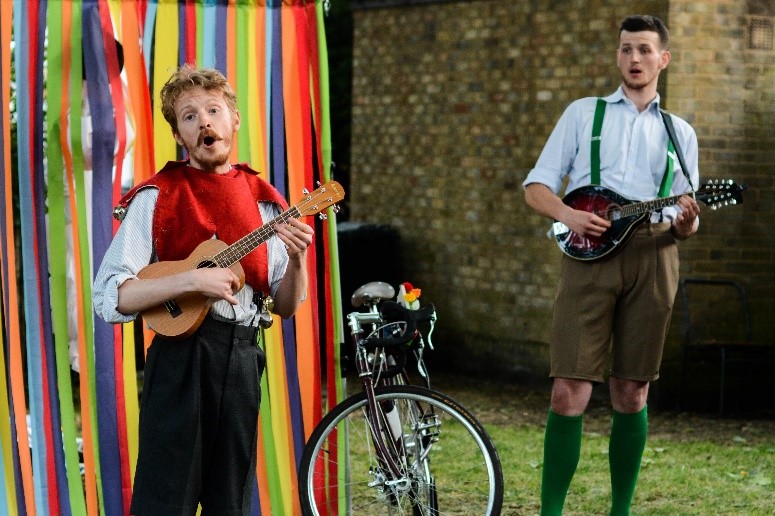 These four men take on a veritable armada of characters and carry the entire story. Each performer has between 3 to 5 different roles, bought to life with different mannerisms, accents and costume pieces. Not only do they perform as the characters, but because of the way the show is presented, they also play themselves as the actors. Fitting in perfectly with the Handlebards concept many of the costumes were in fact, handlebars. Worn as harnesses, they had Tour De France-style tabards with the initials of the character they were currently playing. This wasn't true of every character; others got their own costume flair to help differentiate them further. Ensemble scenes involving 6 or more characters were made somehow possible with cast members doubling up by holding costume pieces and manipulating them as if they were still the characters they represented. I'm going to try and avoid overusing the word creativity, but if there was a single word that encapsulated my feelings about this play it'd probably be that.
Harris' ukulele creates a strong musical theme throughout, which he accompanies with his charming vocals. The characters that he plays are endowed with his dry observations and calm cadence, however his role as the priest really shows his comedic range.
It's a tricky thing to introduce a play when the audience are mid-picnic, but Collier pitched his intro perfectly. The confidence and humour he brought before the play had even started relaxed us all into what would be an excellent evening. His Claudio was pathetic, yet loveable but his standout role was Beatrice. He performed her as an almost Terry Jones-style battle axe of a woman with a hard to reach soft centre which the audience loved.
Ford brought us Benedick, among others. Cheeky, charming and completely unafraid of playing with the audience, which is just as well, as our audience reacted to his laddish misogyny as though he were a pantomime villain! "I'm not the bad guy here!" he said in response, with a wry smile, drawing hearty laughs from the spectators. His other roles were distinct, Borachio, a brutish lout and Verges' Italian accent was comic gold.
The physical comedy of Ross-Fawcett was second to none. From the cat-like, prowling Don John to the grumpy yet eccentric Leonato to the hilarious and also extremely Italian Dogberry – he brought each one to life with a wonderful blend of cartoonishness and believability.
This quartet tackle every role with energy and aren't afraid to engage with the audience. For the most part this really enhanced the play – the audience participation was a great surprise, but I personally feel that it was slightly over-used as we neared the end of the second half.
Not only is the acting fantastic but there is great musical skill on display too. Audiences will be serenaded with harmonious singing, the aforementioned strumming of ukuleles, tuneful flute playing and a child's xylophone.
This is definitely Shakespeare but dispersed in between scenes are improv-esque back and forths, ukulele accompanied songs and humorous day to night transitions. This show is really worth attending and you are sure to have a fun filled evening.
Reviewer: Beth Easton
Reviewed: 10th August 2019
North West End Rating: ★★★★★