It's easy to compare monologues with Talking Heads, but the combination of comedy and tragedy in The Coach House's Leg Bags, along with the fully developed but unseen characters described by narrator Mrs B, makes it almost impossible not to make the comparison.
Written by RJ Lloyd and performed by Karen Young, this one-woman show tells the story of Mrs B, her husband Gary, and neighbour and friend Nancy.
One morning while fixing a tap Mrs B hears a commotion outside. Nancy has become the latest victim of eviction on the street and Mrs B has almost had enough. When she receives a letter stating that her husband is considered fit enough to work and accusing them of benefit fraud, her anger peaks and we follow her struggle to manage to fight the DWP, while manage with no money after they stop her payments.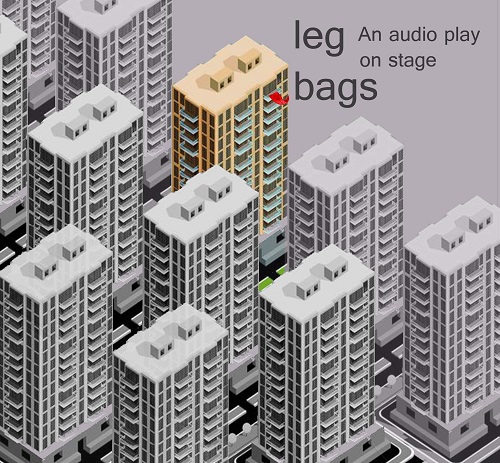 The monologue was live streamed as a podcast with chapter headings and sound effects pre-recorded. Young performed the piece with script in hand, but this did not detract from the high quality of her performance. Young portrayed Mrs B in a highly emotional manner, brilliantly illustrating the highs and lows of her story. Her facial expressions and body language were in no way minimised for the nature of the performance, which was particularly impressive bearing in mind she was sitting in a chair by the microphone throughout which obviously restricted her movement significantly.
Simple props were incorporated into the performance which added a sense of realism and created the atmosphere of Mrs B's home. In many ways the claustrophobic atmosphere of the performance space added to the stress of Mrs B's struggle and enhanced the performance.
The play slowly and cleverly reveals the darkness in Mrs B's life and makes this an incredibly moving and tragic story, with gentle comedy which makes Mrs B an identifiable and real character who you deeply care about after this short glimpse into her life. This sadly relevant story of the reality of life on benefits beautifully illustrates the stoicism of people who have been pushed to the point of breakage.
Leg Bags was live-streamed as a podcast and will be available to view/download on YouTube, Spotify and SoundCloud in the near future
Reviewer: Donna M Day
Reviewed: 29th September 2019
North West End UK Rating: ★★★★