On a damp and increasingly chilly evening at the Gladstone Theatre we are promised "The Sun Will Come Out Tomorrow" and by the end of tonight's performance of Annie by Ellesmere Port Musical Theatre Company you could not help but agree with them as this beautiful musical brought smiles to each and every face in the audience.
Leading the cast as Annie, 11-year-old Sofia Lawton shines brighter than the top of the Chrysler Building as she commands the stage from the first to the last scene. Her vocals are as captivating as her acting as she puts in a performance nobody could fail to be impressed by. She is supported by 12 young orphans with Alice Edwards as Molly also vying for top billing.
This show is not just about the children though. A strong adult cast help bring this story of an orphan who dreams only of finding her parents 11 years after being left on the doorstep of the local orphanage run by the tyrannical Miss Hannigan played exquisitely by Liz Legerton. Chloe Donley is likeable as Grace Farrell assistant to the billionaire Oliver Warbucks (Tony Lacey) who commands the stage as his relationship with Annie develops. Lacey and Lawton's dance during "I Don't Need Anything But You" in act 2 was not only perfect, it was emotional. Huge congratulations to director and choreographer Rob Stevens for this.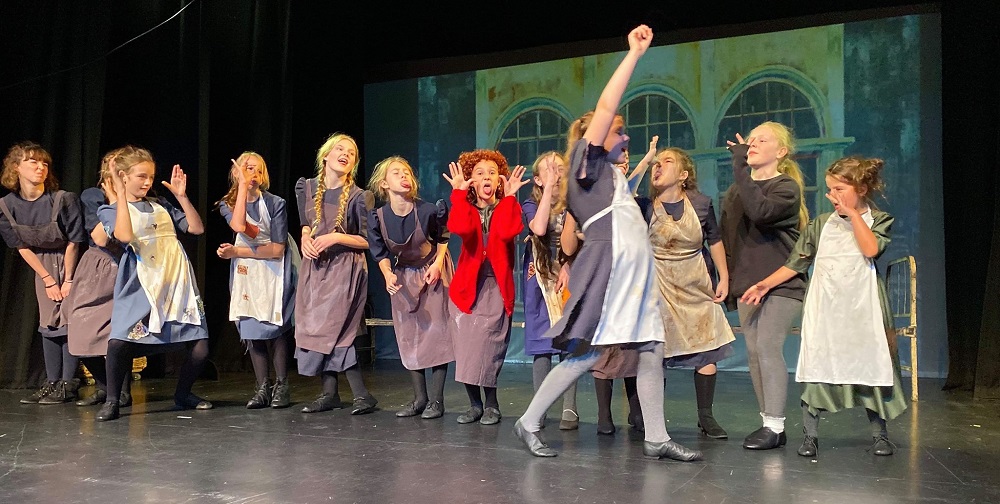 Annie Bond and Chris Pacitti as Lily and Rooster bounced off each other well with Pacitti especially giving a superb vocal performance, however I thought they could have made more of the comedic opportunities presented by these roles.
Jerry Fletcher as President Roosevelt gave an assured performance and I was struck at how touching his relationship was with Annie in their scenes. I later read in the programme they are actually Grandfather and Granddaughter.
The ensemble played several roles each throughout the show and never looked out of place and were well used by director Stevens.
A 6-piece band under the direction of Craig Price sounded superb although at times slightly over powered the vocals on stage. This may have been down to first night issues, or maybe due to myself being on the 3rd row this evening. Whichever reason it was not overly distracting for most of the evening.
There was one cast member tonight who behaved almost impeccably, Rigby, a 5-year old Cavachon played the role of Sandy the dog befriended by Annie after she escaped from the orphanage. A true audience favourite.
When a show is as good as this tonight I find myself looking for smaller issues which look out of place on the stage. Tonight there were a few, one of which was Lacey as Warbucks was wearing a wedding ring despite the line in act 1 "Warbucks is the world's richest unmarried man". An oversight perhaps, but for me a glaring one.
Annie is a joyous evening of entertainment that will not fail to send you home with a spring in your step and a smile on your face. Playing until Saturday evening also with a matinee on Saturday. Get down to the Gladstone and support your local amateur theatre. You will not be disappointed. https://www.ticketsource.co.uk/whats-on/wirral/gladstone-theatre/annie/e-jaqqgx
Reviewer: Paul Downham
Reviewed: 3rd October 2019
North West End UK Rating: ★★★★