What is love? A question that is forever eternal. Great writers, poets and philosophers throughout the ages have always considered this and expressed a myriad of reasons, thoughts and beliefs on this one powerful emotion that makes us who we are. Now we have a show that shoots Cupid's arrow into the very heart of this all-consuming question.
New Art Club (Tom Roden & Pete Shenton) makers of devised dance, theatre and comedy since 1998 brought their beautifully constructed piece to this year's Leap Festival, which is presented by Merseyside Dance Initiative (MDI).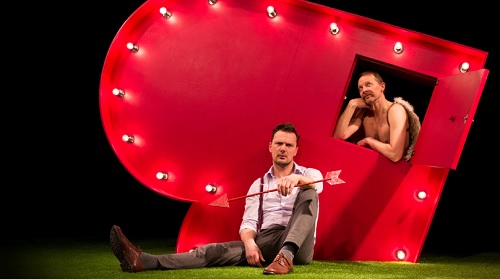 Both performers delivered a quirky, fast paced and often touchingly poetic take on the meaning of love in its many shades and guises. Cupids Revenge has strength, energy and a joyfulness that is sometimes rarely seen on the stage, especially within physical theatre. Roden and Shenton provide clever and original word play that complements the dynamic dance and movement throughout. They simply own the stage with their exhilarating performances which shows quite clearly a depth of understanding, passion and sensitivity. Special mentions to the stunning soundtrack provided by composer Gareth Williams and the imaginative lighting design by Lucy Hansom.
This celebration of love was also a celebration and solid affirmation of life itself. This was definitely one hour of pure sparkling energy that left you breathless and definitely wanting more.
Reviewer: Kiefer Wes Williams
Reviewed: 4th October 2019
North West End UK Rating: ★★★★★