For those familiar with Slavic folk tales, Windmill Theatre and Imaginate's remarkable modern-day version of Baba Yaga and Vasilisa the Fair has significant elements of the original story, but not in an immediately recognisable form. Vaselina (Shona Reppe), the repressed receptionist in an apartment block where the rules include no singing, no laughing, no pets and no noise, is sent by the tenants to the flat of Baba Yaga (Christine Johnston) to insist she turn her music down. Taking with her for company the doll her mother gave her, she meets the frightening but wise Baba Yaga, who will help her find who she really is and allow her to shed her skin and become the butterfly she had always dreamt of being.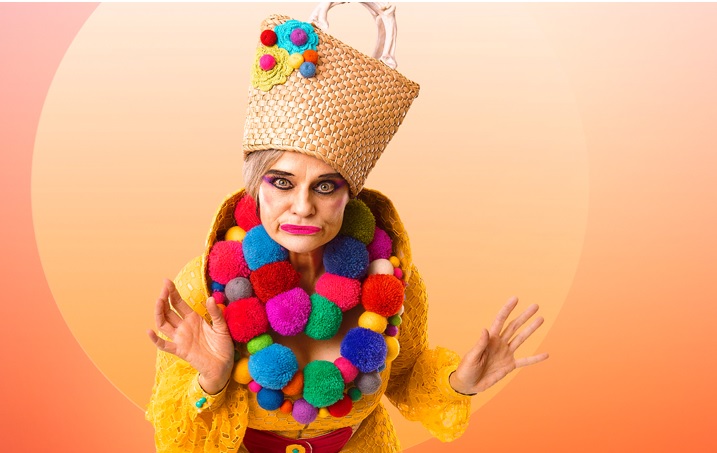 The frequent mention of, 'skin', with Baba Yaga's insistence that she likes 'crispy skin' and that she is 'hungry …I'm always hungry' is a constant reminder of the more sinister elements of the tale. But don't let that put anyone off. The recommended age of 7 – 12 years is an indication that this is no Disneyfied fairy tale; we are constantly aware that menace and danger are never far away, but it is beautifully done with hints and glances, and the imaginative use of projection – at one moment, Vaselina finds herself standing between a giant knife and fork and at another, the audience can see that she is in a giant casserole dish while she remains oblivious – take this up to another level.
The projections (Chris Edser, Ailsa Paterson), which appear on surfaces around the set are used to excellent effect, showing us the surreal and repugnant tenants, the cacti flowering in response to Baba Yaga playing two recorders with her nose (not as easy as she makes it look, but who could possibly resist not trying this at home, though you might want to warn children against attempting to play the saw!), and Baba Yaga's singing cats. They also allow us to accompany Vaselina and Baba yaga on their wild ride through the roof of the building to different lands where Vaselina undergoes her transformation without any need to slow down the story to shift scenery. Similarly, Selene Cochrane's witty costumes reflect the story telling, while the music and the sound effects (Peter Nelson) are excellent. Directed by Rosemary Myers's, this is a production to delight the senses and that will offer food for discussion about the tale and how it was told and the meaning it conveyed. Quite simply wonderful.
Reviewer: Johanna Roberts
Reviewed: 25th October 2019
North West End UK Rating: ★★★★★