Best Beat is a play by Francis Duffy telling the story of Pete Best, who was the original drummer of The Beatles but later, got replaced by Ringo Starr. It tells the story of his love life, his life with The Beatles and it gives an insight into his life after being fired from The Beatles.
Nick Sheedy plays Pete Best and he gives a brilliant performance. He has a singing voice that sounds like he could have been straight out of The Beatles. He has the perfect level of charm and you really feel for him when the news was broken to him that he was no longer a Beatle. He has a brilliant on stage chemistry with Leah Wallace, who plays Kathy, Best's love interest. Wallace does a great job in the role of Kathy. She has a lovely singing voice and she gives the character a great strength, particularly towards the end of the play.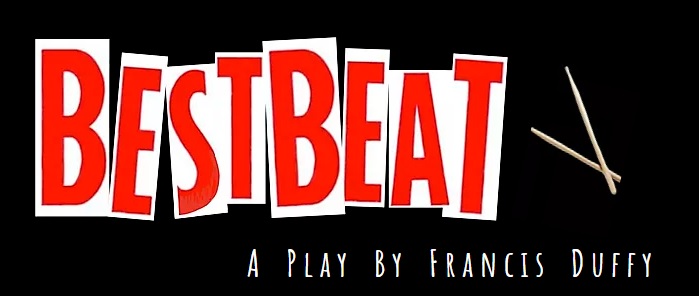 Faye Caddick plays Pat very well. She is completely likeable, making her rejection by Best even more upsetting, and she has brilliant comic timing. She, alongside Wallace, gets many laughs throughout the show.
The show includes a series of original songs by Francis Duffy. They are performed brilliantly by a small band under the musical direction of Craig Gamble. However the songs, despite being fun, didn't add a lot to the show for me. At times they felt like they stopped the show and the flow of the narrative and the lyrics weren't particularly imaginative and sometimes quite repetitive. The songs did sound like they could have been songs from the time though. The three characters get a ballad or two each and these are nice in context but quite forgettable.
Duffy's script and direction however are fantastic. The dialogue feels very natural and it's funny yet not too forced. The simplicity of the staging works brilliantly and the use of monologues to narrate key events rather than performing then on stage is a great choice for this production.
Best Beat is good fun yet moving and tells a story that seems to be rarely told. The tour has now finished but hopefully it will be developed into a bigger production that can be seen by a larger audience.
Reviewer: Jacob Bush
Reviewed: 10th November 2019
North West End UK Rating: ★★★