LUST return to the Stanley to kick this academic year of productions off with Little Shop of Horrors. Little Shop of Horrors tells the story of Seymour and his discovery of a blood thirsty plant, Audrey II. It has a great book packed with plenty of laughs by Howard Ashman and brilliant music by Alan Menken.
Adam Riley and Jasmine Millard directed this production very well. They've reinvented this musical. It works better in some parts than others though. They do a great job to incorporate an ensemble into the show where there isn't an obvious one, particularly with Audrey II. The use of ensemble members rather than just Orin Scrivello as the characters offering loses some of the comedy and the impact I felt. The staging of Audrey's dream in Somewhere That's Green was nice but it also felt a little unnecessary as, to an extent, it lost the beautiful simplicity that the song often has. Lydia Wood's choreography is great, particularly for Audrey II's numbers, and the band under the direction of Emily Magee sound truly fantastic.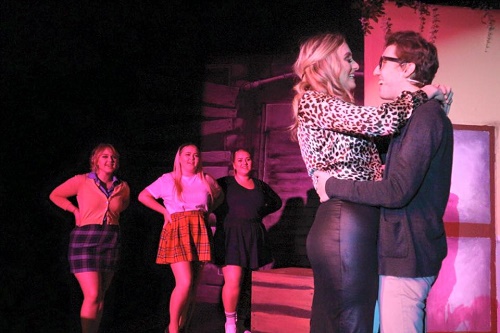 This show has a terrific cast and showcases a lot of talent on stage. Emiko Seawright plays Audrey. She is vocally flawless and she does a great job at not making the character too much of a caricature. Jack Michael Gloyens makes a strong Seymour opposite her. At times, his characterisation was a little OTT but this settled as the show went on. He sings the role brilliantly. Max Dresler plays Mr Mushnik and he is very well cast in this role. He has a great rapport with Gloyens, his vocals are great and he's completely convincing in the role. Daisy Belknap, Laura Jaramillo and Olivia Webster make a wonderful trio as Chiffon, Crystal and Ronette. They have a wonderful rapport between themselves and they bring a great energy to the stage. Webster deserves an extra mention as well as her vocals are truly outstanding.
For me, the stars of this show were Omar Hussein as Orin Scrivello and Alice McCormack as Audrey II. Hussein brought his character to life brilliantly and very believably. At times, he could have pushed it further, particularly in the laughing gas scene – I would have liked him to be a little more terrifying. But his portrayal overall was fantastic. Hussein is a natural performer and he seems completely at ease on stage. McCormack characterises Audrey II exceptionally well. Whenever she was on stage, my attention was drawn to her. She had a fantastic stage presence and she really was terrifying and villainous to the right level, without ever verging on panto villain.
This is a great production of a truly brilliant musical, featuring a tremendously talented cast. It's a shame it has such a short run. LUST return to the Stanley Theatre with Grease from 28th to 30th November.
Reviewer: Jacob Bush
Reviewed: 15th November 2019
North West End UK Rating: ★★★