With a title part-taken from an Emily Bronte poem about defiance, No Coward Soul, written and performed by Emily Parr, is a one-woman tragicomedy about coping with modern day life as a cynical romantic, striving to survive alone in the midst of a painfully amicable divorce, and raising that question time immemorial: why must everything be so difficult?
Parr's play is far from difficult as armed with a table, a laptop, some stools, and a suitcase of props, she cleverly and wittily explores what she perceives society is throwing at her as a newly re-established singleton.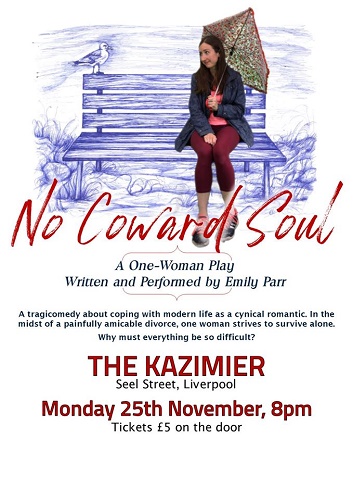 She is an expressive performer and her writing has an undoubtedly intended lyrical quality to it which takes the audience on a journey where judging by the laughter most if not all snippets were easily recognisable. With a talent for observation and mimicry – her caricatures are spot on – mixing up the subject matter with issues such as mortgage applications, which we can all recognise in one form or another, in contrast to the group counselling session, where we laugh more thankfully because we're so not like those who are portrayed, is a good call, irrespective of whether you've been divorced or not. Is it possible to get too much of a good thing? Yes, so a little tightening up wouldn't go amiss.
Parr's self-deprecating style is easy to follow and at no point are we asked to like or dislike her – and who are we to judge anyway – as we consider the apparent watchful observations of others as she eats a meal out alone or has to share a sofa cinema seat with a stranger, either because again, we've been there and got the t-shirt, or are relieved that we haven't: cue hug the partner next to you and breathe out.
However – hey, it could have been worse, I could have said 'but' – that's the issue as there's something missing, and as a lecturer in English, Parr knows she doesn't have to look too far: good writing, like music, is about tension and release. Too much tension and we risk exploding; too much release and we can drift away. Whilst she offers great release, I would question whether it could have been sustained for any greater length. I do believe there is a longer piece in here crying to get out but currently there are not enough moments of tension to achieve that. This is a piece of work clearly based on her own experiences and as all good writers know – a bracket that Parr comfortably falls into – you've got to open yourself up completely, no matter how hard you might think it will hurt.
Coming in at just over an hour, Parr noted at the beginning that this was a developing piece of work that has been four years in the making with this its first full performance. She is certainly a talented writer and performer and it made for a perfectly enjoyable evening, so it only leaves me with one final observation:
You're no coward Emily Parr, far from it, so be brave and show me your soul.
Kazimier Stockroom is a micro venue located at 32 Seel Street, adjacent to the Kazimier Garden. Further details http://thekazimier.co.uk/stockroom/
No Coward Soul is performing for one further night on Thursday 28th November at Kazimier Stockroom because tonight had sold out which is wonderful news all round. Further details of this and future performances can be found at https://www.facebook.com/EmParrProjects
Reviewer: Mark Davoren
Reviewed: 25th November 2019
North West End UK Rating: ★★★