Ugly Bucket's Good Grief, directed by Rachael Smart and Grace Gallagher, is a surreal comedy about death. Created for Tim Miles, at his request, to be performed at his memorial service, the show deals with many aspects of life, death and grief in a unique and very entertaining way. Performed by an ensemble cast consisting of Adam Baker, Angelina Cliff, Canice Ward, Grace Gallagher and Jess Huckerby, this is an excellent show which combines tragedy and comedy in one of the most original ways I have ever seen.
Much of the action is physical theatre and the dance elements of the performance are very well done. The Company make fun of physical theatre on numerous occasions and the self-deprecating elements of this are particularly funny. The clowning featured within the performance are very well executed and prevent the subject being looked at becoming too dark.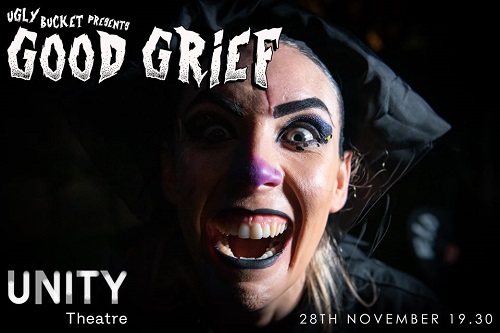 The set consists of various gravestones and walls, graffitied with various messages in luminous paint, only visible under a blacklight and a few simple seats. The graves and furniture are cleverly used from the opening show to the end, to hide the cast members and enhance the performance in various ways.
Various music and sound effects are used effectively to move the story forward and to enrich the show. Video game style sound and ominous music is particularly good, and sound is played with in an interesting way in the physical theatre aspects of the show.
Various voice recordings featuring real life experiences of grief and loss are played throughout the performance. These recordings make the show especially raw and honest and mean that most audience members would be able to identify with the experiences being explored.
The piece explores the frustrations of the medical profession and the place of religion in death as the performers all run from the inevitable. The awkwardness of the people living their life with a dying person and the repercussions when they are left behind lead to some incredibly poignant moments.
Good Grief is a play about death, but it is also a play about life. Blending the hilarious with the distressing, it shows us that we have the right to grieve, the right to hope and that it's okay to remember someone we have lost and smile about the things they did. It's okay to laugh about the things we used to laugh about with them after they have gone.
You can find out more about Ugly Bucket Theatre on their Facebook page https://www.facebook.com/uglybuckettheatre/
Reviewer: Donna M Day
Reviewed: 28th November 2019
North West End UK Rating: ★★★★