Liverpool city centre certainly doesn't know what's going to hit it when Arabella decides to go out on the razzle and sort her boyfriend out!
Make up – check. Attitude – check Mobile phone – of course!
Hair extensions (they always look good on Arabella) check or maybe, not check? Start the ominous music and dim the lights, something weird is lurking in those fine extensions.
ArtsGroupie's dark comedy tells the story of Arabella, a young woman who discovers that her hair extensions are actually possessed and wanting to tell a story. If this sounds like a cross between Mean Girls and The Omen, you may not be too far off. But Samantha Alton's strong one woman performance is far more than that and then some.
Ultimately, I felt that Weave skilfully examines the darker side of social media, about how some vulnerable people like Arabella can become addicted to it and how she is unable to live the life that she is really wants. The constant stream of mindless banter, advice and criticism from the likes of all the Instagram's, tic-tok's, Facebooks and snapchats in the world invade her life constantly – it's almost like seeking validation for her mere existence and maybe even more horrifying than any possessed Russian hair piece that she puts on her head.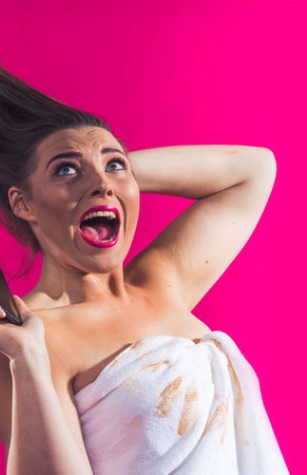 That's not to say that the show wallows in self- pity and total bleakness, absolutely not – it is a bright and fast-moving Scouse comedy (with added off-stage narrators) that on the whole works rather well.
ArtsGroupie a Liverpool based community interest arts company who previously presented the outstanding Kitty, Queen of the Washhouse (which also had Alton in the main role) have come back to the stage with a sharply incisive and at times quite funny take on one woman's discovery of herself. Through some quirky puppetry and shadow play, we see Arabella's journey through issues that include body image, social media and mental health. She has her real friends and then she has her Facebook "friends". She feels that she has to keep up with everyone and everything.
Written by John McGuire and Samantha Alton and directed by Margaret Connell this is a good perspective upon self-identity and self-worth and how some people can hide from reality and eventually lose themselves.
Unfortunately the use of a back screen that displayed messages and various video's and emoji's didn't really work for me and there were some technical issues, stage lights obscured most of the text that Arabella had received and it was hard to make them out, especially if you were sat on the right side of the auditorium. I think perhaps because it was a performance largely centred on the impacts of social media, that maybe the screen could've been a bit more prominent and clearer to view.
Alton plays Arabella with great energy and fervour and incorporates the right level of humour and pathos in equal measure. She is a great local actor and gives Arabella life and soul. She richly deserved the standing ovation from the Royal Court audience on the first night.
Being the only actor on stage, carries a lot of responsibility to get it right on the night but Alton makes it look so effortless, and that is all partly down to the crisp dialogue and fluid, well-judged direction from Connell.
Intriguing, bizarre, funny and sad (with a touch of the macabre thrown in), a stellar performance from Alton but let down by some unfortunate technical issues.
Continues at the Royal Court Studio Theatre, until 30th November at 7.30pm https://liverpoolsroyalcourt.com/whats-on/weave/
Reviewer: Kiefer Wes Williams
Reviewed: 28th November 2019
North West End UK Rating: ★★★
Weave by ArtsGroupie is supported by The Arts Council England