It's that time of the year when theatres are bringing families together and presenting much loved and well known tales to life in pantomime.....Stop right there! The Royal Court in Liverpool breaks with tradition with The Scouse Snow White, which I must emphasise is an adult only pantomime so don't even think of taking the kids or anyone of a sensitive nature! Written by Kevin Fearon and directed by Chris Mellor after the success of two previous 'Scouse' panto's, this laugh a minute cast will have you in stitches with their antics and innuendo, guaranteeing a night to remember.
Opening the show with the company all on stage we are off to a good start with everyone joining in with the singing of 'Land Of Make Believe' against a fabulous winter woodland scene of shimmering, frosty trees. Along with special effects with lighting and dry ice, a truly magical atmosphere has been created and the set is simply stunning, effortlessly revolving from the woodland scene to reveal the Queens boudoir with dungeons below and then again to Nana Dwarf's Christmas Cottage.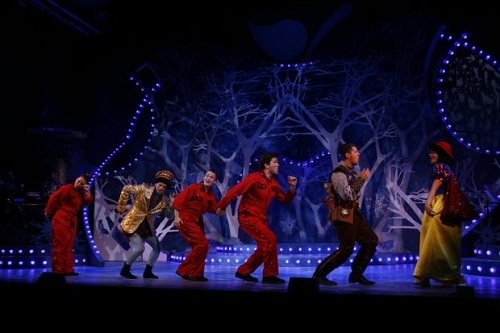 Possibly one of the best sets I've seen in a while. Situated almost in the wings at both sides of the stage with guitarist and drummer above, are a fabulous four-piece band who along with a vocalist are dressed to impress and form a perfect accompaniment. Costumes throughout are colourful, bright and eye-catching.
Narrator/Queens guard, Andrew Schofield, has impeccable comic timing and just a look and a raised eyebrow is enough to have you in tears laughing. The Evil Queen is performed with absolute wickedness by Lindzi Germain who commands the stage with her presence. Snow White, played by Hayley Sheen falls victim to a poisoned manky or Manc- y (as in Mancunian) apple, you know the story, but horror of horrors she experiences a fate worse than death for a Scouser!
This is Snow White as you have never seen her before, and Sheen is hilarious in the role. The handsome Huntsman (Michael Fletcher) reveals incredible vocals even if some songs are, in his words, 'Cheesey'. A new character to the original tale is the brilliant Stephen Fletcher in the form of The Vampire Christmas Killer, appearing from nowhere (amazing stage effects yet again). Although I'm not familiar with the local Mayor it soon becomes apparent that Keddy Sutton as Mayor Joe displays some humorous similarities and has the audiences in raptures. As in all pantomimes there are local references but not enough that as an 'outsider' it spoils the enjoyment. Nana Dwarf is brought to life by a very talented puppeteer, Samantha Arends (she can sing too) and although she is very visible, it's Nana you focus on. There is even a genie in this plot, delightfully performed by Jamie Clarke.
There's profanities and adult humour that strangely comfortably fit in with the show, alongside classic songs such as the 'Most Wonderful Time of The Year' which really sets you up for the festive season.
I have to concede as a 'Manc' reviewer, the Scousers have scored a hat trick! (it's make believe anyway). Well done everyone on a truly fantastic production, I loved every minute and I will definitely be back next year.
If you haven't got tickets already for the Scouse Snow White you need to act quick, all performances are almost sold out, don't miss out. Tickets and show information: https://liverpoolsroyalcourt.com/whats-on/the-scouse-snow-white/
Reviewer: Lorna Weekes
Reviewed: 28th November 2019
North West End UK Rating: ★★★★★