Wordsworth might have thought we come 'trailing clouds of glory', but anyone who has had to look after a baby knows that it's a bitter-sweet experience and a roller coaster of a ride. Theatre-rights' production, Beasty Baby, beautifully illustrates the highs and lows of caring for a new baby. Set in a cottage in the woods, the three protagonists, played with charm and humour by Elliot Liburd, Teele Uustani, and Emily Windham, imagine what it would be like to look after a baby, and act out the fantasy.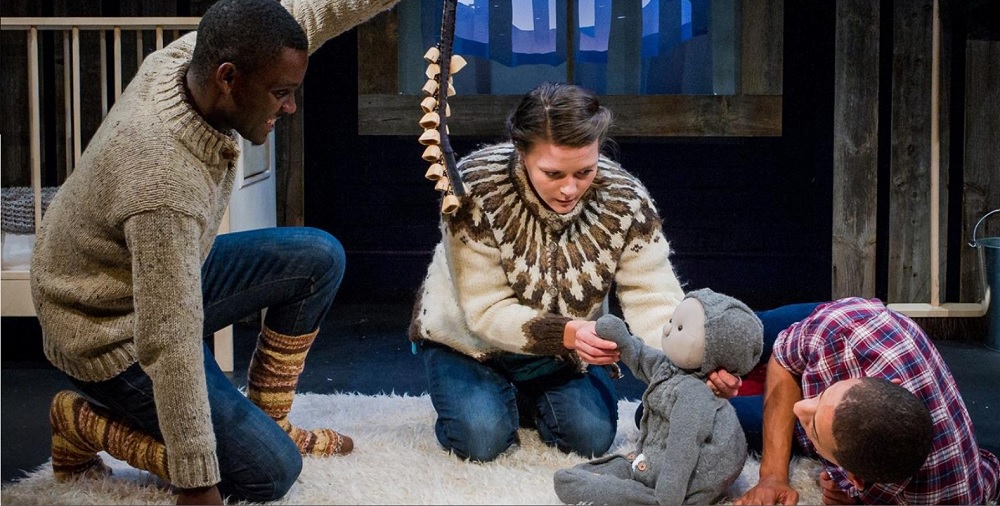 Only when an actual baby arrives – a simple but extremely expressive handheld puppet, expertly manipulated by the actors -- does the reality of smelly nappies and sleepless nights kick in. The adults on stage jump through hoops – sing, dance, rock, cradle and cuddle – to achieve the magical moment of a happy baby and to care for and entertain the little tyrant while the adults in the audience grinned in recognition. There is the initial frustration of not being able to understand why the baby is crying, but once the baby is slightly older, (cue a second, slightly larger and definitely frownier puppet), and has started to talk, the challenges change. Sleep deprivation means tempers can fray, there is conflict on parenting methods, and even subtle rivalries for the baby's approval.
Aimed at 3 – 6 year olds, the show enchanted the school children who comprised most of the audience when I saw it, from oohing and aahing at the scenery and how bits of it become musical instruments to giggling at the antics of the grown-ups. A significant amount of the story is told simply through action, with language kept to a minimum. Music – percussion from the range of household items, skin drums from sections of the cot, and a kalimba hidden inside the clock – and singing are used to good effect.
This show is perfect for the young and very young, both as an introduction to the theatre (at 50 minutes it is just long enough) and as an opportunity for discussion about the chaos, the challenges, and the fun a new baby can bring. Playing until the 28th December https://www.unitytheatreliverpool.co.uk/whats-on/beasty-baby/
Reviewer: Johanna Roberts
Reviewed: 11th December 2019
North West End UK Rating: ★★★★