Merry Christmas, Carol is a new interpretation of Dickens' classic, A Christmas Carol, set in Liverpool at the eponymously named, Dickens Department Store. Written by Helen Carter and directed by Joe Shipman, this musical features an all-female cast and tells the story of Carol (Helen Carter), a manager at Dickens Department Store, and her daughter Holly (Molly Madigan) on Christmas Eve.
Carol works hard in her job, too hard in fact, and her daughter Holly is feeling neglected. When Holly brings home a Christmas tree, as she missed having one the year before, her mother refuses to help her decorate it, instead telling her off for getting pine needles on the carpet. She then runs off to work for her interview for a big promotion. Holly is facing Christmas Eve alone, but fate has other plans and before Santa's sleigh sets out, Carol will have reflected on her past, present and future, and hopefully realise what's important in life.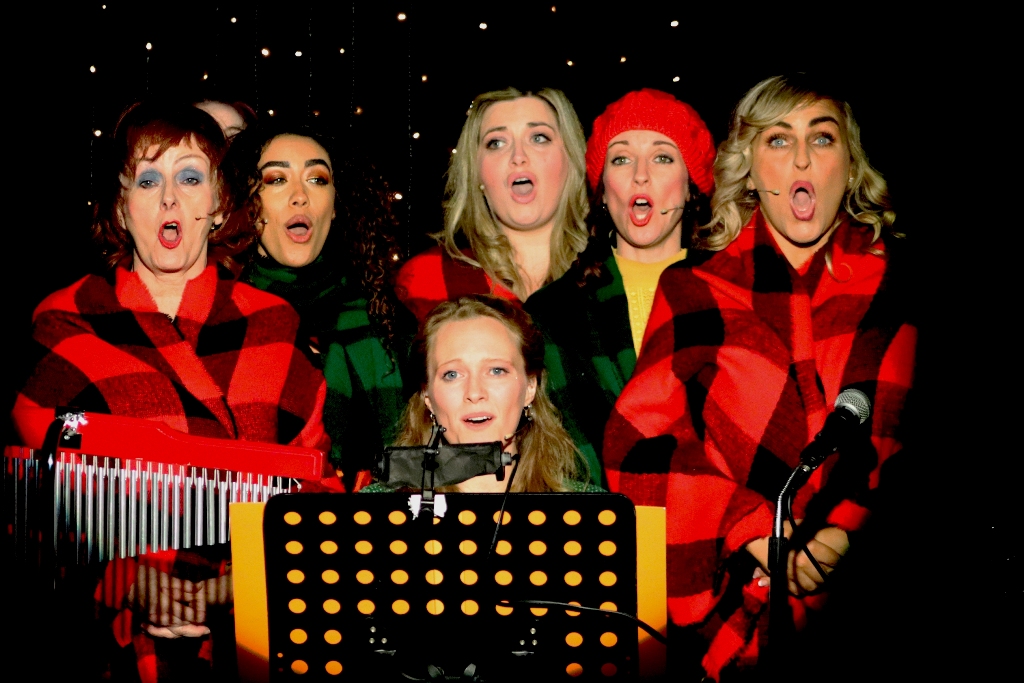 The play opens with a group of carol singers giving a rendition of O Little Town of Liverpool which sets the tone for the whole show in which many of the songs are based on classic Christmas carols. The narrator, Sherry (Rachel Hilton) tells us she has recently lost her job at Dickens Department Store and that Carol is a harsh boss to work for, though she wasn't always like that.
We then see Carol interacting with her daughter, who is clearly very isolated, although Carol herself does not seem to notice. Telling Holly she doesn't have time to talk right now, and that she needs to get on with her school coursework, Carol runs out of the door to work on one of the busiest days of the year.
Her interview with Gloria (Eithne Browne) goes very well and culminates in Carol hard-heartedly sacking Eve (Paislie Reid) before going off to the Christmas party to show off about her promotion while showing the staff who is boss. This leads to a sequence of events where Carol reflects seriously upon her life in a style similar to Dickens' classic tale.
Browne plays various roles in the play, including some male characters and is excellent. Her demonic pantomime villain performance as Gloria is particularly memorable and she creates laugh out loud moments almost every time she is on stage.
Madigan's portrayal as Carol's neglected daughter is very good and the inclusion of her original song Hold On is a lovely touch. Angela Simms as Joy is fabulous, with her exuberance bringing a light to the stage whenever she is on it. Carter's performance is excellent, and her journey throughout the story is believable and emotional.
There have been many incarnations of A Christmas Carol over the years, and while they are almost always well received, it is very difficult to do something new. Merry Christmas, Carol, however does manage to achieve this and it is one of the most original versions I have ever seen. Tender and heart-warming, this is a moving piece of theatre with elements which are relevant to a modern audience, which brings a whole new twist to a timeless story.
Baggage is showing at the Royal Court until 29th December. Tickets are available here https://liverpoolsroyalcourt.com/whats-on/merry-christmas-carol/
Reviewer: Donna M Day
Reviewed: 12th December 2019
North West End UK Rating: ★★★★★