I must admit, this was a new one on me, about which I know nothing although based on a film...which came out in 2006, so there you go. And not the most promising of titles, although perhaps shorthand for 'Once upon a Time', being on a par with a fairy tale of the rags to every possibility of riches kind. After all, just look at Gerry Cinnamon, who still sings as if he can't believe his luck. This is certainly an intriguing take on the same old, same old: boy meets girl, boy fixes girl's hoover...girl fixes boy. Because in Dublin's fair city, this Girl is so pretty, and pretty smart, too. The Boy is a busker, so disillusioned about life, the Universe and everything, especially True Love, he's about to give it all up when she meets him. Enthralled by his songs, she persuades him to keep going, and to aim high: make a demo and try his fortune in New York. What is particularly intriguing is the way the plot constantly takes unexpected turns and keeps you guessing.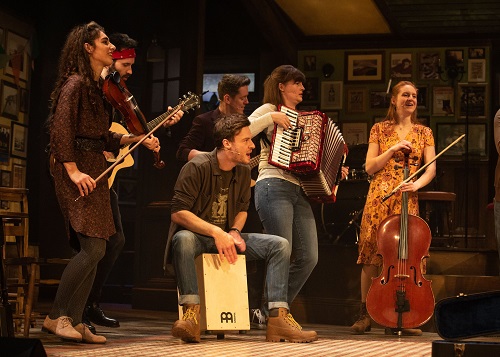 The understated love story, filled with wistfulness and unspoken wishes, is all the more effective for being played out against a background of infectiously uproarious music. Right from the beginning, you are welcomed in, the stage full of incredibly talented musicians cum actors, all apparently having the time of their lives, making sure you feel right at home enjoying the crack and a ceilidh in a lovingly crafted pub which could have come straight out of Temple Bar. Props are gaily wheeled on and off: the piano for Barry's shop, tables for the Girl's home and the bank manager's office etc. Even the ceiling takes lift off for exterior scenes. The songs meanwhile cover the whole range from the Girl's solos and the cast singing a cappella, all so haunting, to rousing, stomping ensemble pieces. All the same, nothing really sends you home humming, and unfortunately, some seemed quite similar, starting out as ballads sung by the Boy, building up to a crescendo until everybody pours in, singing and playing their heart out.
However, the acting is pretty near faultless with a lovely turn from Daniel Healy, evolving from sad loser to hopeful wannabee, although he perhaps does not evoke as much affection as the ebullient, resilient Girl, beautifully played by Emma Lucia. In particular because she is delightfully funny, and stays on the right side of cute; quirky characters run the risk of becoming purely annoying. Dan Bottomly's Billy, for example, the Girl's boss, is a bit over the top at times but by and large, both touching and comical. As for Samuel Martin, he polishes off a neat little cameo as a frustrated singer songwriter turned bank manager. Other small roles which have quite a big impact include the Girl's house-mates: Ellen Chivers as Reza and Lloyd Gorman as Svec. Then we have Susannah van den Berg who manages to make something interesting out of the Girl's rather stereotypical mother, and while I think we are led to believe early on that the Boy's Da is something of a tyrant, and if so, maybe a missed opportunity there, Peter Peverley seems sweet and understanding – and by contrast, extremely lively in his other roles.
Rapturously received by the audience, this charming show created a memorable buzz, a remarkable atmosphere. At a time when there is, literally, a band wagon when it comes to this theatre genre (Queen, Madness, ad nauseam sometimes) a musical about music is refreshingly original. And one which celebrates music with such richness and style is definitely a hit, one you really mustn't miss.
Until the 25th January 2020: https://www.atgtickets.com/shows/once/liverpool-empire/
Reviewer: Carole Baldock
Reviewed: 20th January 2020
North West End UK Rating: ★★★★