"Curtains" had a disappointing start with a 10-minute delay that had the audience a little unsettled but in the gutsy opening number of 'Wide Open Spaces' this uncertainty soon disappeared. The opening song of cowboys and girls in the vein of "Oklahoma" certainly wasn't what we were expecting for this 'who-dun-it musical spoof' but it's refreshing to be surprised. The set was turned so that we were backstage (I love that!) and we see the old starlet Madame Marian murdered.
And so the plot begins , we are moved from scene to scene with great songs- ' What kind of man', 'Thinking of him', 'A woman's dead', 'Show people' (sang superbly in a very Ethel Merman-esk way by Rebecca Lock who played Carmen), 'In the same boat ' and 'it's a business' , great dancing and choreography and a superb injection of comedy throughout each scene – that although were quite predictable amused the audience at all times.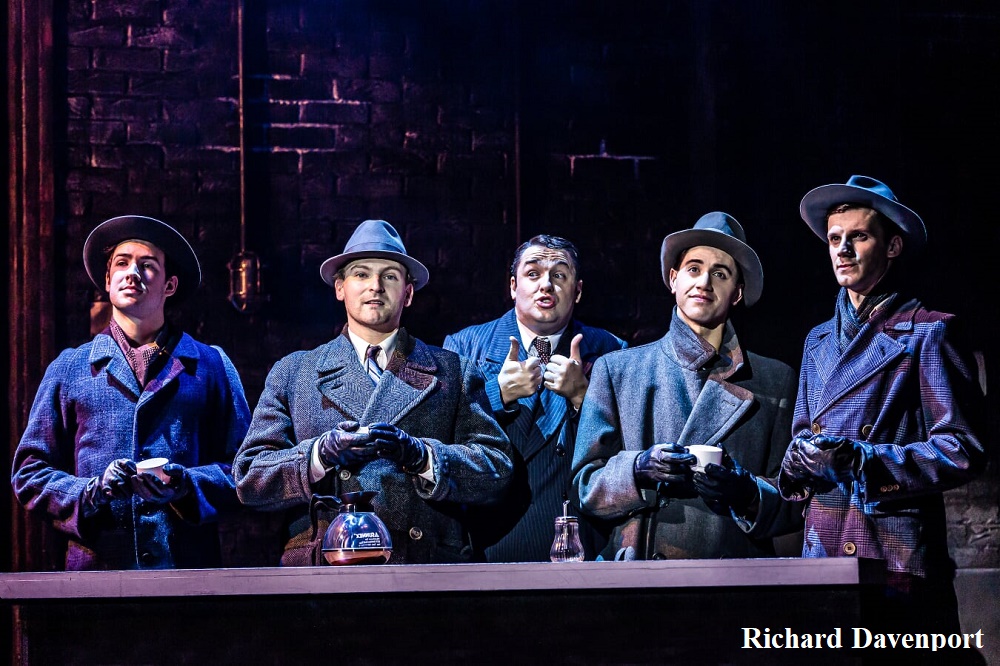 Jason Manford held an authentic America accent throughout the show and was excellent as the musical theatre obsessed Lieutenant Frank Cioffi and paraded his brilliant singing (seen first in the sitcom TV comedy 'Scarborough') and dancing skills with ease.
The sets and costumes were superb, and the dancers were 'tight' and glowed with enthusiasm with fantastic choreography by Alistair David. As more people are murdered (no giveaways here I'm afraid) and the Lieutenant and Niki (played by the wonderful Leah Barbara West) fall in love we are all left guessing as who the murderer was. There are triangles of love played by the principle singer Georgia (the talented Carley Stenson), the husband Aaron (played by Ore Oduba – who's voice wasn't strong in the number 'I miss the music', – but this could have been first -night nerves) and Christopher (played by the enigmatic Samuel Holmes). There were mother and daughter strains between Carmen and the adorable Bambi (played delightfully by Emma Caffrey) and so we had a bit of everything mixed with the murder and music!
The whole show was a delight of 'vaudeville' musical songs and dancing, with comedy/humour and suspense. There were some great dance routines namely 'The woman's dead' and 'He did it' sang and performed by the whole company and Jason Manford excelled himself in all areas. If you love non-stop songs and that old era of Broadway, then this show is for you. Until 1st February https://www.atgtickets.com/shows/curtains/liverpool-empire/
Reviewer: Jan Mellor
Reviewed: 28th January 2020
North West End UK Rating: ★★★★