Liverpool's Royal Court always does a great job at putting all things Liverpool on stage and their latest production Lost in Colomendy is no exception. For those who doesn't know what Colomendy is, like I didn't when I got to the theatre, it's a residential centre in Wales that young people commonly get sent to from Liverpool. In this play, a new manager takes a group of B&Q staff members to Colomendy on a team building weekend and it's safe to say it doesn't go according to plan.
Nicky Alt's script is packed to the brim of adult jokes that all land just right. The script could have had a few more laughs and more of a variety of jokes but Alt does a great job at making the play entertaining despite very little actually happening. Alfie Heywood's design is spectacular. All 3 large sets look very realistic and the mountain set was particularly impressive and very well used. Ian Scott's lighting is great and helps to make the passing of time very clear and Kate Harvey's sound is brilliant and every word is heard crystal clear.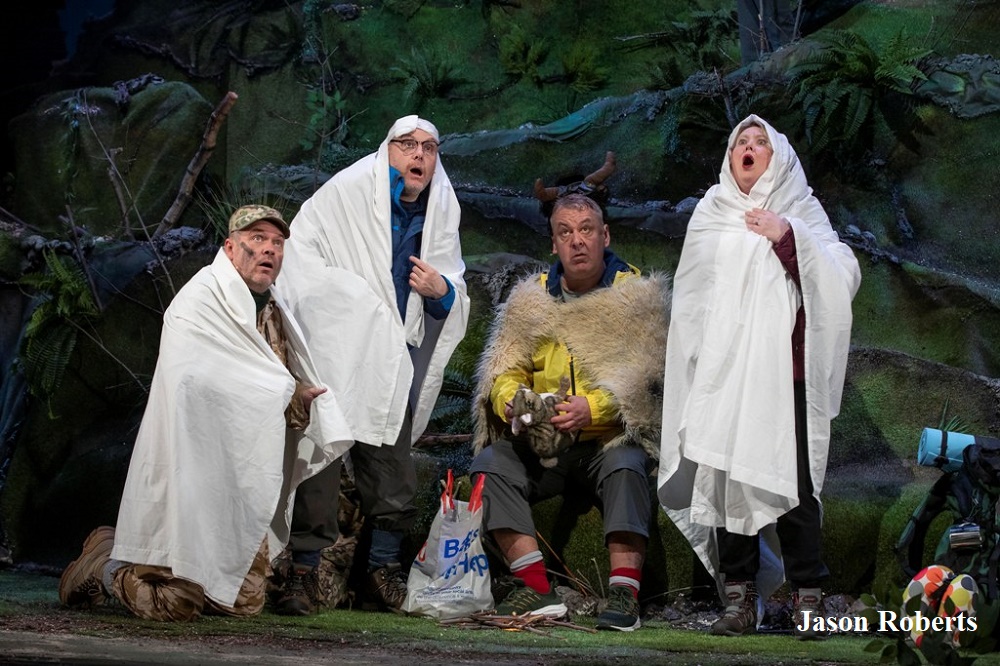 It is the cast that really make this show as great as it is. Each and every performer brings their character to life brilliantly and it is clear they each have a personal connection to Colomendy. Paul Duckworth plays Brian and he makes for the brilliant pessimist of the group. He is particularly brilliant in the second half as things start to go very wrong. John Evans is spot on as Big H and his experience in comic acting comes across clearly. Liam Tobin is exceptional as Stan and he is very funny and likeable. Alan Stocks does a brilliant job as Barry and he gets the biggest character development in the show which he portrays very well. His on stage chemistry with Jane Hogarth as Helen is completely believable. Hogarth plays the manager of the B&Q perfectly and she shows her character's development brilliantly. The entire cast have a brilliant rapport and this helps to make the show so entertaining. You can tell the friendship between the characters is also a real friendship between the actors.
Credit must also go to the venue's waiting staff and kitchen staff. It is no mean feat to get so many people fed in such a short space of time and the food never fails to disappoint. I'm sure it must be just as choreographed in the kitchen as it is on stage.
Lost in Colomendy is an entertaining night out at the theatre. Although the script didn't have a big enough variety of jokes for me and I felt some of the characters could have been written with a bit more depth, it is engaging, relatable and good fun, with a cast of some of Liverpool's greatest comic actors.
Reviewer: Jacob Bush
Reviewed: 5th February 2020
North West End UK Rating: ★★★