Liverpool's Royal Court Youth Theatre and North West End Acting School present "The Unlikely Candidate". This dark comedy is based on the myths and legends of Jack the ripper, except in this version, everything is very, very, very scouse. The theatre company asks "are you ready to discover a tale so bold it should never be told?" and to be complete honest, no I wasn't ready for what I was going to witness! The show opens with a bang as the whole cast sing the opening number with enough punch and drama to transport us back to 1888 in a matter of seconds. The enthusiasm of this cast and the slick, hard hitting, well rehearsed performance took me by surprise and it just kept getting better!
The story depicts the events surrounding and leading up to the death of James Maybrick. James lived in Aigburth and was murdered by his wife in 1889 however following his death, he was revealed as a suspect in the Jack The Ripper cases.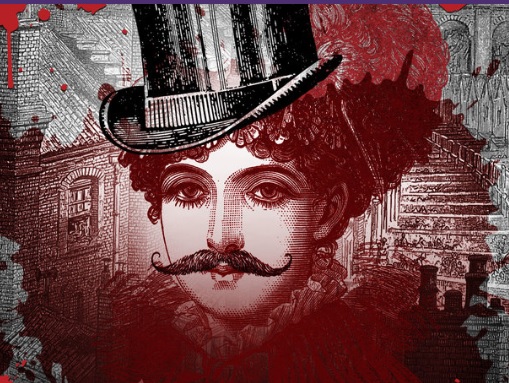 'The Unlikely Candidate' puts him firmly in the frame by revisiting his gruesome crimes and shining a light into the darkest places with some unexpected consequences.
This show is excellently weird and wonderful. The director has created a piece that forces the audience to become totally immersed in the drama, comedy, music and everything in-between. With the essence of Victorian England at the core, the modern spin brings hilarity and fun that is essential to entertain this modern day audience.
The acting and singing was faultless, everyone gave it their absolute all and should be so proud of the performance. The show hosts original music written by Francis Tucker which must get a special mention, the music is sometimes spooky, sometimes beautiful but always fantastic. Enhanced only by the talent of this young theatre company as they sang performed each number with power and elegance. 'The Unlikely Candidate' and its music reminded me of the very popular "SIX" the musical about Henry the 8th's wives which has taken the world by storm. This show has the potential to do the same.
The technical team, alongside the production team have executed utmost professionalism in the delivery of this show. The timing of the lighting and sound along with the actor's movements and choreography create precision and remarkable dynamics that give this show this extraordinary feeling.
With the running time being around 60 minutes, the ticket prices have been set low at £5. In my opinion, this company have undersold themselves and the audience are getting a lot for their fiver. Congratulations to everyone involved in the writing and creating of this entertaining piece of theatre. "The Unlikely Candidate" appeals to the mass audience and is definitely a show to watch out for in the future.
Reviewer: Blathine Maguire
Reviewed: 20th February 2020
North West End UK Rating: ★★★★★