It's always a cause for celebration when a brand new musical arrives on the stage and even more so when it's a show of this standard. The Colour of Light is a lyrical and entertaining musical with a book by Caroline Smailes and original music and lyrics by Anne Taft. It explores the relationship and bond between Mother Iona and daughter Iris and about how lessons are learnt and passed on between generations.
The musical was simply staged with singers from the excellent Liverpool based Sense of Sound company providing the musical landscape. The singers acted as the voices of the Muses who help both mother and daughter on life's often dramatic and emotional journey.
Directed with great flair and lightness of touch by Miriam Mussa, this often moving piece of theatre says a lot about the human condition, how we relate to others and hopefully how we learn from past mistakes and grow.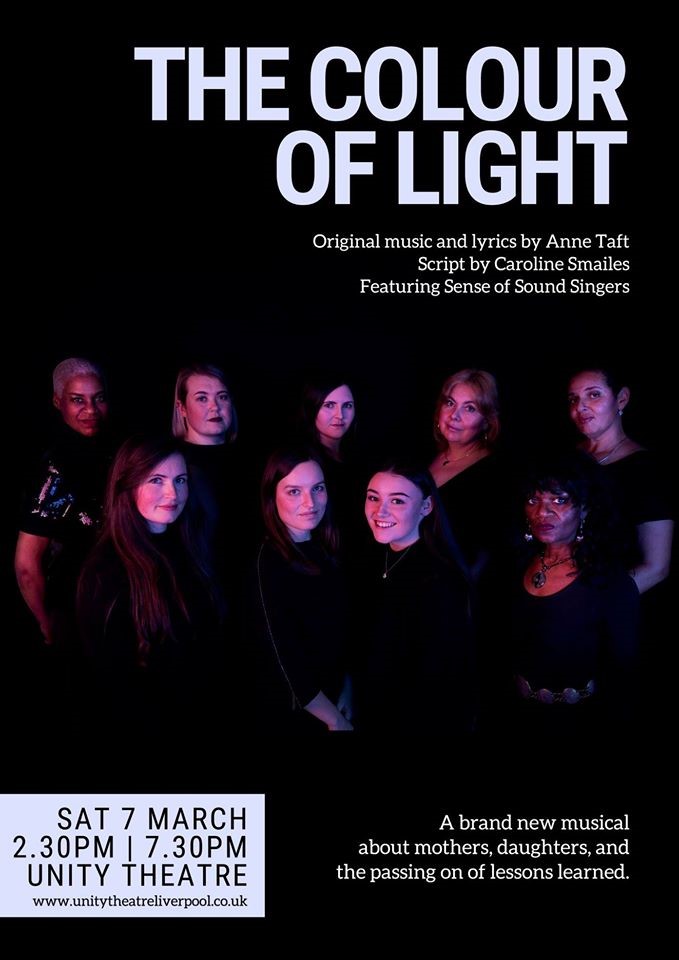 Yes, it is about a mother and daughter relationship, but it also says so much more than that, it is a universal story, it's about connection and the importance of truly understanding and accepting others. The nine performers were ably supported by a quartet of very talented musicians – Christine Horton on piano/keyboards, Tony Jennings on drums/percussion, Tim Pike on bass and Paul Taft on guitars (Taft also arranged all the songs in the show).
I did find Smailes script a little clichéd in some parts, and you kind of got the sense where the story was going but as a whole, the script though quite simple and familiar, worked fairly well. For me however the strongest aspect of this musical was undoubtedly Taft's beautifully rich and textured music & lyrics.
This was a show with great musicality right from the very start. The fabulous Sense of Sound singers owned the stage from the word go giving both powerful and emotional performances throughout, and in particular Jennifer John really stood out for me with supremely skilled vocals. John has such a captivatingly rich and beautiful voice.
Stand out songs from the show were "Don't Give Yourself Away", " I Ain't Never" and the rousing finale piece "Not Anymore". I would say "Goodbye to Yesterday" was the highpoint of the 16 strong set, a lilting and haunting piece with strong lyrics and a charmingly plaintive score.
This was a beautifully simple musical concept by Taft and Smailes, I would say that as it is still being developed for the stage, some consideration should be given to the script to make it less clichéd in parts but leave the songs alone for sure – they are the jewels in this little gem of a musical.
It will be very interesting to see how the journey goes for The Colour of Light.
Reviewer: Kiefer Williams
Reviewed: 7th March 2020
North West End UK Rating: ★★★★