Joyce Grenfell was without doubt one of the most enduring and consummate comedic artists that this country has ever produced. She was and still is an inspiration for many up and coming female comediennes and actors. Grenfell had superb comic timing and a wonderful repertoire of achingly funny and warm characters. She was quite simply one of the most talented and some may say vastly underrated performers of her generation. She appeared in many famous British comedy films including the frantic and over the top St Trinian films along with Alistair Sim and George Cole. Grenfell also appeared in many early British comedies of the 50's & 60's including "Run for Your Money" which also starred Alec Guiness and Moira Lister, the iconic vintage car movie, "Genevieve" with Kenneth More and Dinah Sheridan and she even appeared in the classic Hitchcock thriller, "Stage Fright" alongside Marlene Dietrich and Richard Todd.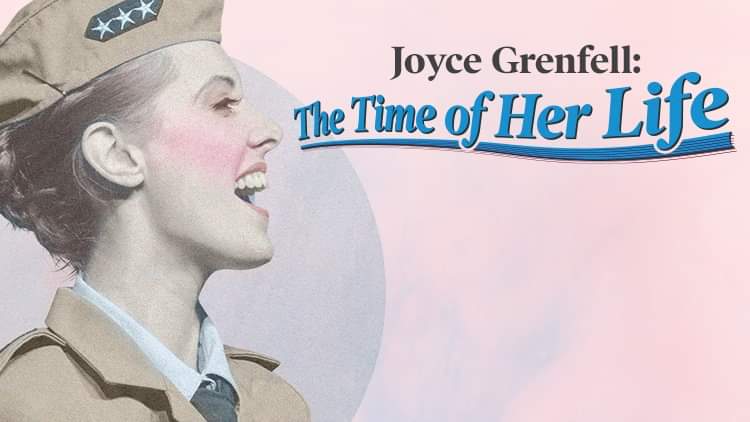 In short, there was seemingly no end to her talent. Grenfell was a golden age comic performer from the golden age of British theatre and cinema.
These days Grenfell is largely remembered for her wonderfully adroit and warm hearted one woman monologue performances whether she was doing the military two- step to the wonderful Stately As A Galleon in "Old Time Dancing" or the harassed school teacher in "George, Don't Do That". There are so many charming and wonderful creations to choose from and it's fair to say that her monologues still stand the test of time.
Gambolling Arena have now lovingly brought this iconic artist alive once more in a beautifully realised one-woman show directed by Suzy Walker and featuring Kimberley Russell as Joyce. The show not only spans Grenfell's work on stage but it also sheds some fascinating light on her life. It's a supremely well-judged and excellent performance by Russell who really captures the essence of Grenfell through the funny monologues and first person narrative written by Walker. Added to all this, we have Russell's delightful voice as she sings some of Grenfell's most famous songs including Noel Cowards stirring and beautiful anthem "London Pride".
The staging is very simple, always making sure that Russell's central performance as Grenfell is key to the entire evening's success. The stand out piece for me was "The New York City Cocktail Party" monologue, a fast, funny and skilful sequence which showed off Russell's amazing acting talents
Directed with great aplomb by Walker, the show is emotional and joyous in turn with the emphasis solely being Grenfell's unique observations of life. It really is a big warm hug of a show in these dark days!
Reviewer: Kiefer Williams
Reviewed: 14th March 2020
North West End UK Rating: ★★★★★