It has been 40 years since Rocky Horror hit the big screen in 1975 but the film still has a major cult following today - even for fans like myself who weren't even born when the movie was released, let alone legally able to watch it until well over a decade since its release. Why is it such a successful movie? Maybe it's because in the day it was seen as slightly forbidden & somewhat bizarre, and invited the audience to give themselves over to absolute pleasure.
Written and starring Richard O'Brian (who I grew up knowing as "The Crystal Maze man" - LOVED that show!), The Rocky Horror Picture Show tells the story of squeaky clean newlyweds Brad Majors (a "hero") - Ben Forster (Jesus Christ Superstar), and Janet Weiss, (a "heroine") Haley Flaherty (Matilda) head home after a mutual friend's wedding only to be caught short with a flat tyre amidst a stormy night. Stopping off at a nearby castle or "Frankenstein place" in the hope of being able to use their phone to call for help, the couple find themselves surrounded by the castles' residents - and these are no ordinary residents. Dr. Frank N' Furter (David Bedella), a transvestite, along with his servants Riff Raff (Kristian Lavercombe) & Magenta (Jayde Westaby) along with the rest of his less than ordinary clang of fellow Transylvanians has his own diabolical plans for the evening, set against some fantastic rock and roll type musical numbers.
As you all probably know, Richard O'Brien originally played the role of Riff Raff, but for ten days in London he is taking the audience through his musical masterpiece in the role of Narrator. The Gala evening scheduled for 17th September is set to feature a host of special guests including Stephen Fry and Emma Bunton to each take a slice of the Narrator role. After the scheduled London shows the spectacular performance is set to go on a UK tour and is set to sell out quickly - so book your tickets fast! I know I will definitely be returning to Transylvania and will once more do the Timewarp again!
Although the stage set is in some places fairly basic this does not take away the magic of the whole show. Other notable performances include the fabulously quirky and petite Sophie Linder-Lee as Columbia, a role which was practically written for her (even though she wasn't even born when Richard O'Brien wrote it!). Having recently finished a long stretch as Understudy Glinda in West Ends Wicked at the Apollo Victoria, Sophie embraces the role of Columbia with a passion and such energy, having the audience laughing out loud at the quirky character and receiving an enthusiastic response from the audience for her energetic tap dancing routine.
The choreography is spectacular (Nathan M Wright) along with amazing costumes (Sue Blane), well-loved songs, (the Timewarp, Touch-A, Toucha-A, Touch Me, Eddie's Teddy, and Sweet Transvestite, lots of audience participation (although this often became distracting for the cast, and as much as I love the movie, I was there to see talented professionals to perform the show NOT some tone deaf audience members). Do not let that last bit put you off - this was after all opening night, and I know for a fact that Front of House staff along with instruction from the cast, this has been tamed down to avoid spoiling the show for fellow theatre goers.
The Gala evening is being streamed live across cinemas throughout the UK. Of course my ticket for this was also booked months ago & of course I am REALLY excited about seeing this performance again, already feeling privileged to have witnessed it live in the theatre, especially with Richard O'Brien performing as this was a once in a life time opportunity. This show will continue to excite theatre goers both old and new for another 40 years to come!
This run of the popular cult classic is also raising funds for Amnesty International, with merchandise showing the Amnesty logo. Amnesty International is a movement of ordinary people from across the world standing up for humanity and human rights. Its purpose is to protect individuals wherever justice, fairness, freedom and truth are denied. http://www.amnesty.org.uk/
Reviewer: Lottie Davis-Browne
Reviewed: 11th September 2015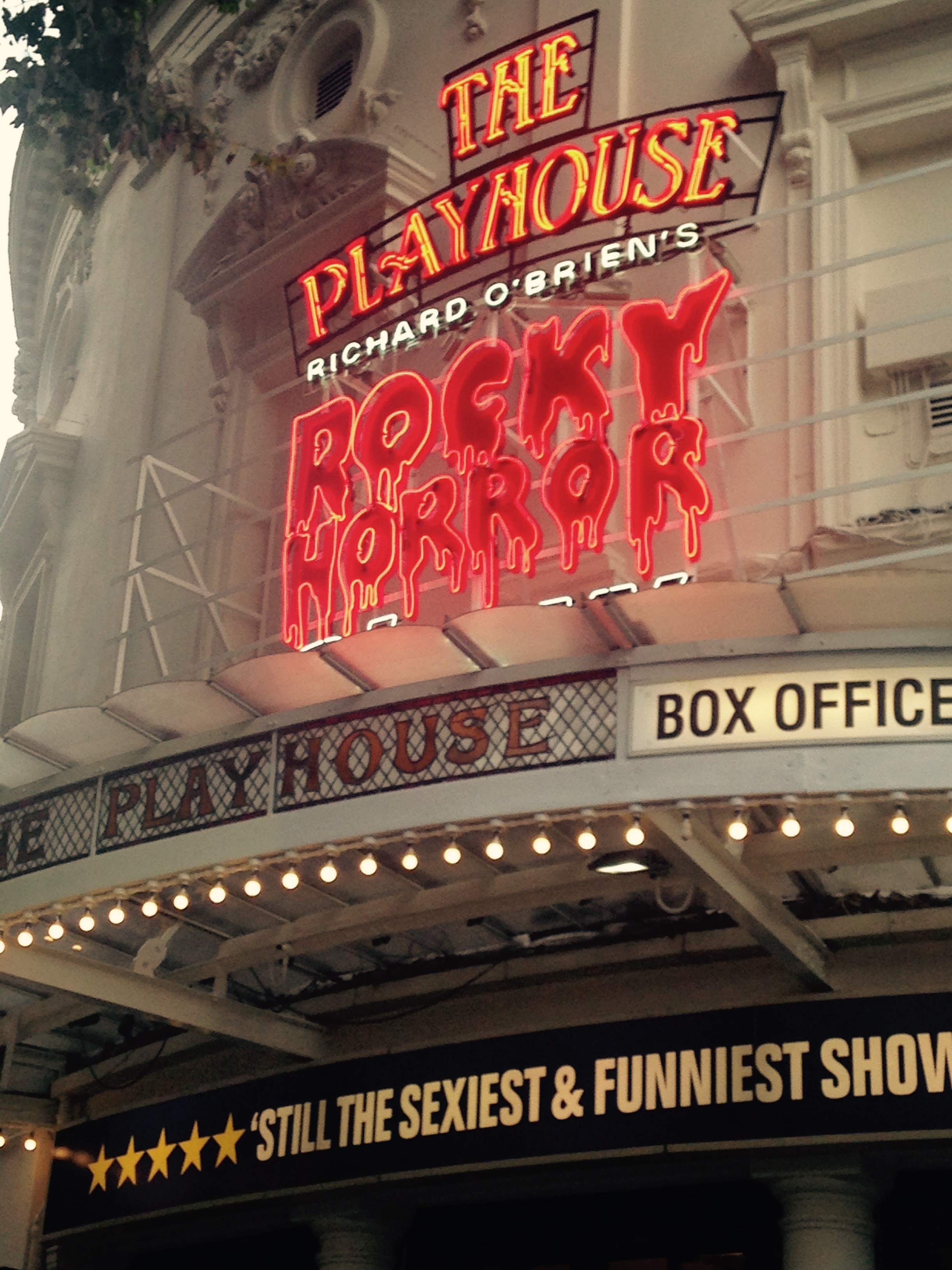 Photo: Lottie Davis-Browne