When a show arrives in the West End with so much hyperbole around it; when you bought the tickets for over a year ago; when the OST has been your constant companion in the car for 18 months, it is difficult not to be apprehensive it will live up to sky high expectations. Don't worry, Hamilton delivers everything you'd hope for and more.
For those that are unaware of the show (and they do exist), Hamilton tells the story of the 18th Century American revolutionary and politician Alexander Hamilton, his rise from penniless immigrant to founding father of the USA and subsequent dramatic fall. This potentially dry subject matter is brought to life in stunning form as a sung through, hip hop musical by the ground-breaking lyricism and music of Lin Manuel Miranda. The rap lyrics take on the Shakespearean quality of blank verse, referencing everything from Macbeth to Greek tragedy by way of Grandmaster Flash, bringing the rise and demise of this political giant into sharp focus. For a British audience, with a more limited knowledge of the story of the American revolution, the events are clearly exposited and characters such as Washington, Jefferson and King George III are deliciously well drawn.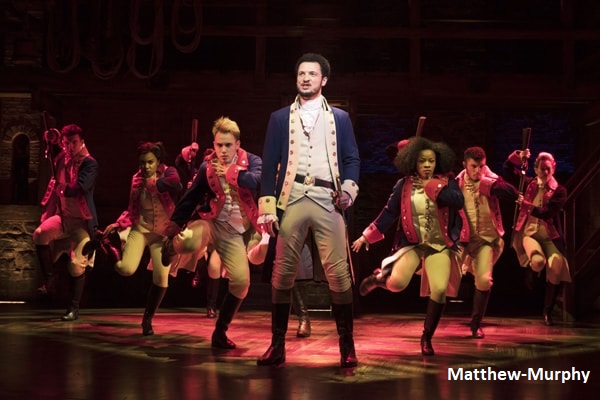 To a great extent, the success of this production is reliant on the casting of Alexander Hamilton, originally played by Miranda himself on Broadway to huge acclaim. In Jamael Westman they have succeeded with enormous effect. A 25-year-old RADA graduate with only two previous professional productions on his resume, he demonstrates remarkable confidence in both delivery and emotional range, whether spitting out rap lyrics during 'Cabinet Battles' or softly reflecting on the birth of his son during 'Blow us all Away'.
Hamilton's bete noire is Aaron Burr (Giles Terera), frustrated at every turn by his rivals success. The 'villain in your history' is sympathetically portrayed and his motivations are subtly developed by Terera.
Both Rachel John (Angelica) and Rachelle Ann Go (Eliza) shine as the Schuyler sisters with Eliza especially providing the strong show-stopping ballads associated with a smash Broadway show. Watching her singing 'Burn' after discovering her husband's infidelity is a moment that stays long in the memory.
The use of multi role in the casting allows the other strong lead actors to demonstrate their versatility. Both Obioma Ugoala (Washington) and Jason Pennycooke (Lafayette/Jefferson) are watchable and commanding, with Pennycooke playing Jefferson as a Prince/James Brown tribute to particular comic effect.
Scene stealer of the evening was undoubtedly Michael Jibson as dastardly King George III. He was wildly cheered by the London audience and will undoubtedly become a cult hero in this production.
The relatively small ensemble are distinct in their characterisations and each story has been carefully considered and developed. Choreographed by Andy Blankenbuehler and lit by Howard Binkley, they convey battles, balls and duels in an inventive and arresting way. The open set with dual revolving stage and few props allow for minimal disruption to the narrative and the direction of Thomas Kail gives pace and vibrancy to the story. Additionally, the band are hugely accomplished when asked to deal with an unusually complex score.
The newly refurbished Victoria Palace Theatre sparkled, celebrities in the audience were thunderous in their applause, the drinks were cold, the paperless ticketing worked, and the merchandise was reasonably priced; all doubt was allayed. I usually want to offer as much constructive criticism of a production as possible, in this case I simply cannot. It delivered.
Do whatever it takes to be in the room where it happens!!
Reviewer: Paul Wilcox
Reviewed: 5th January 2018
North West End Rating: ★★★★★