With the modern climate of social media and immediate fame, Pressure's story of the unsung heroes of the D-Day landings is a truly enthralling tale that reminds you of how different the past was, when your morals and a strong handshake were enough to seal someone's trust. Centred around the final planning stages of the Normandy landings, we follow Group Captain James Stagg in his quest to secure the safety of the landings and accurately predict the weather conditions under immense pressure, whilst also juggling trying to be a caring husband and father in his family's time of need.
David Haig gives a truly captivating performance in the lead role of James Stagg, showing that after years of mastering his trade, he can still control an audience and entertain an entire room just with his physical presence and how he embodies a character, never mind his flawless dialogue which was delivered with a terrific air of grace to it.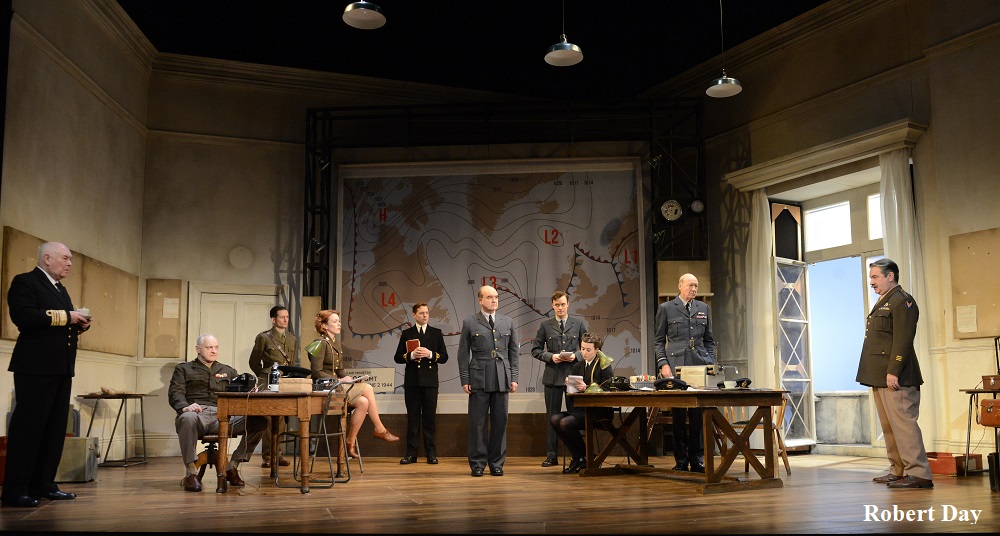 Laura Rogers was simply flawless as Kay Summersby, giving the play a root in calm and control and making sure that the enormous energy in the piece was supported by a strong base. In particular her farewell moment at the end really moved me and had me close to tears. Philip Cairns was good as Colonel Irving P Krick, working well with the limited amount of stage time and meaningful script given to him. However I do feel that he was given somewhat the short straw out of the cast and this character could have been so much more compelling had we seen him more. Ultimately though the standout performance of the night for me was Malcolm Sinclair as General Eisenhower. He fantastically portrayed a very famous and well-known figure in a multi-faceted way and this is a truly un-enviable task as everyone would have their own perceptions of who Eisenhower was, but Sinclair took all of these on and crafted a real human, not a celebrity construct. His control throughout was fabulous and really made you empathise with him and feel his struggle to get the mission over the line.
From the creatives side, I thought that the direction by John Dove was impeccable and there were so many fantastic moments in this piece, both on script and off, that really made you stop and just take in the wonder you were viewing. The set design and use of lighting were both great too, in particular the way they showed the changing weathers out of the window really added to this piece in my opinion.
Overall I thoroughly enjoyed this show and would recommend it in the highest regards to anyone else. This is a fabulous true story that needs to be told to the masses and Pressure is exactly the way to tell it!
Reviewer: Adam Craddock
Reviewed: 14th June 2018
North West End Rating: ★★★★★