As part of The Camden Underground festival, FILTH presents bring fresh and stimulating work A Woman in Search to The Camden People's Theatre. Produced collaboratively between director Rory Foster and performer Eliza Caloe, this one woman show claims to examine the conflicting relationship between an actress and the character she plays. As her life begins to unravel, the story touches on themes of identity, insecurity and jealousy.
The piece is a combination of interspersed stories, broken up narrative and a stand-up comedy routine. Although unpredictable and slightly compartmentalised, the performance feels organic and unscripted. Caloe effortlessly navigates from storytelling to visual art. Throughout the show Caloe is fully invested in what she's sharing and experiencing. The transitions could feel contrived or disconnected but the investment and energy she pours into her work is utterly believable and captivating. Powerful visual images were presented throughout. Foster directing Caloe to use bold physicality to portray frustration, anxiety and sensuality.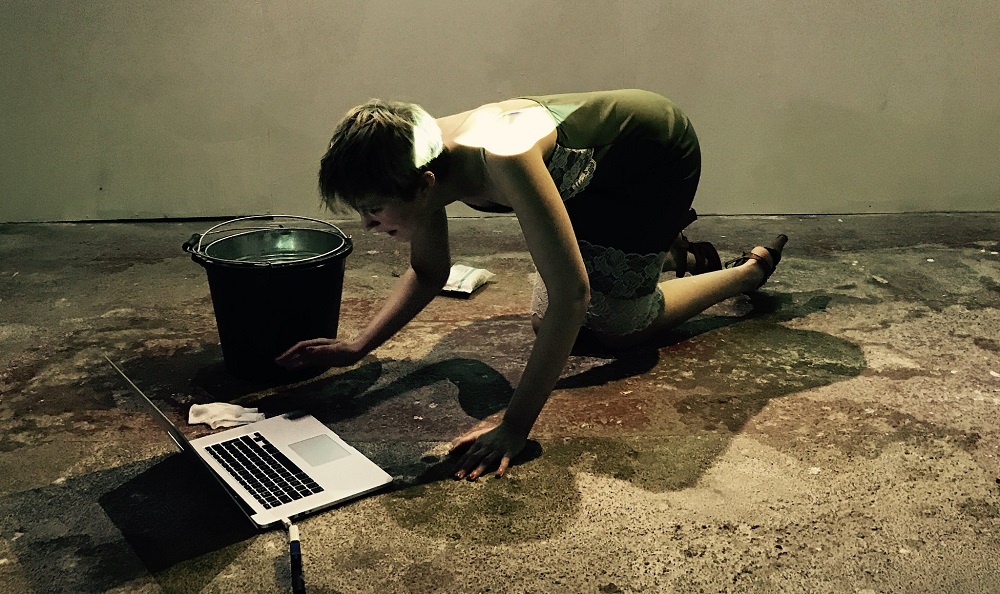 The performance begins with Caloe eager to please spectators by getting dressed into the character she clearly loathes. After some preparation, she takes the microphone and initially alternates between several comical characters, not referenced again, who individually share their ideal night out. Enjoyable as it was, it was perhaps purely used as a device to create comedy rather than develop the narrative. Thus, introducing and clarifying who the actress and the character were took some time to establish.
The space is well used. The studio is white and harshly lit, revealing a bare stage with minimal props or furniture. Effective use of lighting and well edited audio clips bring a sudden change of mood or focus. Foster has directed Caloe to use the entire studio – facilitating this by cleverly positioned reading lamps and a microphone that has an incredibly long lead! The audience are discouraged from remaining static and free to change seats or standing position at any time. Far from being distracting, Caloe embraces this as part of the performance, at one point charging spectators to move in closer so they don't miss out on a great story. She quickly makes onlookers feel comfortable by playfully inviting them to participate and talking openly to individuals as if they were old friends.
Overall the piece was unconventional but enjoyable. Ultimately, I would have liked the narrative to explore the premise a little more but the piece was still thought provoking, fun and relatable. Foster has directed an excellent example of unusual but effective storytelling that is well worth seeing.
Reviewer: Isla Robinson
Reviewed: 13th September 2018
North West End Rating: ★★★★