Really Big Pants Theatre Company premier band new show 'Wonky' at The Cockpit ahead of their upcoming schools tour. Performed by writers and producers Willow Nash and Joe Bromley, this 50 minute two-woman show is fun, energetic and silly- the perfect combination for a family audience. Centred around issues of social pressure and self- belief, Wonky addresses what true friendship is and how boys and girls alike have the freedom to pursue whatever talent they're interested in.
The story follows keen chef Olive (Nash), desperate to win the prize of the school dance competition: two tickets to the opening night of Chef Nicompoop's world-class restaurant. Rehearsing with her so-called best friend Trixie (Bromley), it's clear that she doesn't feel very confident at dancing. Trixie is more concerned about being talent spotted then being a good friend and is quick to trade in Olive for a better dancing partner. When all seems lost, keen dancer Jesse suggests that Olive pairs with him, the only problem is it would mean working with a boy!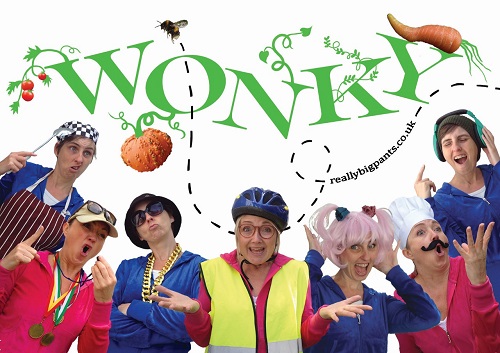 Interactive from the beginning, Nash and Bromley engage children instantly as they come in by asking them to smell and guess what herb they have. This is bait for an audience who are delighted to be involved. As a touring company, set is minimal. Adaptable, this means that the can show can be presented in any venue: school, library, hall or theatre! After an introduction by themselves, the performance begins. As there are no lighting changes and actors are visible at all points, some of the magic is lost by the initial transition into characters Olive and Trixie. An easy remedy would be to begin in character as the audience enter or conceal themselves behind some of the set for that initial transition. Nash and Bromley use different costumes and distinctive accents to clearly display a change of character. They have bounds of energy moving in between their seven different personas. Most enjoyable and entertaining are their depictions of Rapper Scool Yo, Coach and Chef Monsieur Nicompoop.
More humour and inclusion could have been found by addressing rather than ignoring children who in excitement called out to the characters. At times, Bromley and Willow did well to use audience participation through interactive actions and asking for volunteers. Involvement could have been more present by perhaps asking questions or advice from children as to decisions that Olive needed to make.
Naturally, with the main character aspiring to be a chef, positive messages such as eating healthy, enjoying vegetables and keeping good food hygiene were able to be subtly presented. A wonderful end to the experience was allowing the children to interact with the props and set. Carefully prepared resources encouraged creative writing and healthy eating. Having brought an eight-year-old critic with me, she was quick to tell me that her favourite moment was when Monsieur Niconpoop got food poisoning and farted. Essentially please bring more toilet humour! She also found the experience very funny.
A delightful show, with moments of genius. Thoroughly enjoyable and will do brilliantly with some development.
Reviewer: Isla Robinson
Reviewed: 29th September 2018
North West End Rating: ★★★