From the genius of Rob Gathercole, 'Say My Name' is the unashamed parody musical of the epic Breaking Bad franchise. Currently performing at Theatre N16 until 2nd November, this unique production reimagines Walter White's immense journey from underdog to drug king through the power of song!
Whilst ambitiously condensing 5 series into 90 minutes, writer and Composer Gathercole has lightened the intense drama with cleverly written lyrics and catchy songs. The company of six are also credited for the humorous script and inventive staging which includes Walter enthusiastically dancing in a human sized bag of drugs and a summarisation of season three with wooden spoons. The bizarre reimaging of this well- known drama is delightful and the audience are quick to beam with joy. Breaking Bad novices need not fear though, far from being just countless in-jokes, the production is incredibly accessible and highly entertaining for all.
The cast perform the memorable tunes with stunning vocals and close-knit harmonies.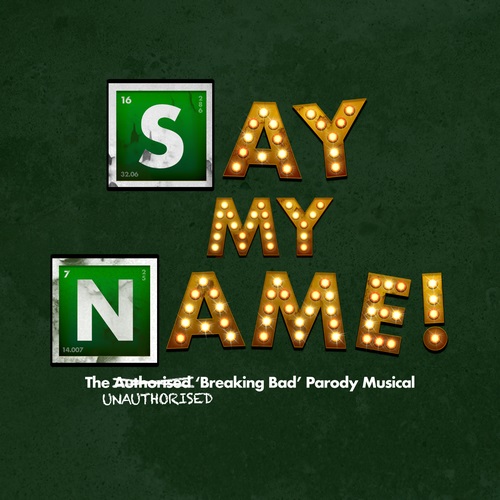 Multi-talented, they also accompany each other's singing with a host of instruments, the range of which cleverly pairs with the style of the musical numbers. With actors remaining in character whilst playing them, the instruments humorously become part of the storytelling. Further, the company confidently juggle the responsibility of sourcing props and costume onstage as part of the seamless transitions.
There are countless moments of genius and musical delight. With over 30 distinctive songs it's not possible to mention every one. Highly enjoyable was the badass rendition of 'The Motherf***ing DEA' led by Scott Brooks as cocky officer Hank. Matt Tweddle as Walter passionately performs 'Say My Name'- a refrain which I cannot get out of my head. Also, a reimagined rendition of the first meeting between mob boss Gus, played by Edward Hole and Walter is unforgettable. Hole sings 'Don't Be a Chicken' whilst leading Walter in a sensual tango dance.
Each performer brings distinctive characterisation to the various parts they play. In particular, Rebecca Levy gives an accurate and transformative impersonation of Jesse later contrasted with her assertive and sassy Gretchen. Olivia Warren has a commanding stage presence as nagging wife Skyler and does a devilishly good interpretation of Hector Salamanca. The production doesn't take itself too seriously and does best with its original ideas such as presenting Walter White Jr. as a miniature puppet version of Tiny Tim!
Unsurprisingly, there is a lot of content to cover and the show significantly overran its running time. Without an interval, the performance begins to drag despite the high energy of the performers. This undermines what a fantastic creation this is. As a spectator, I care more about this original retelling than covering the entire content of the 5 series. With some simple development and cutting this could easily be rectified.
A spectacular show which is hilarious and highly entertaining. The excellent writing, incredibly talented cast and unique staging make this unconventional experience unmissable! I implore you to go and see it.
Reviewer: Isla Robinson
Reviewed: 16th October 2018
North West End Rating: ★★★★