Ahead of its upcoming tour, Bag of Beard Theatre debut new production Renaissance Men at the Old Red Lion Theatre this November. Written by emerging playwright James Patrick, this dark comedy is highly topical and engaging.
Set in a run-down flat in Streatham, Irvine is a self-conscious writer that has recently started dabbling in a touch of erotic fiction. He repeats a poetic refrain throughout. At first, he painfully searches to express himself but as the story unfolds the images become embedded in emotion. Suddenly, uninvited, two art school friends burst into his apartment engrossed in an argument of sorts. Extravagant art lover Quentin is convinced he's discovered an original masterpiece by impressionist painter Pierre Christo. Rational Winston is less convinced by the supposed fate of finding treasure in a British Heart Foundation store. Determined to win Irvine's financial backing, Quentin implores him to purchase the painting so they can all split the returns. When art collector Robert arrives to examine the piece, the audience are intrigued to discover whether their investment will prove profitable or pointless.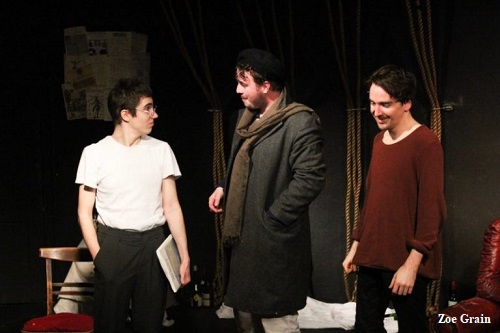 A fantastically refreshing story examining the fragile dynamics of modern day male friendships. The narrative is quickly absorbing. Patrick's quick and witty writing is captivating. Dialogue flows naturally and even elitist philosophy is accessible. As Winston spurts out learned ideals the audience is not left isolated but interested.
Each character is distinctly written and has great depth. The highly talented cast are a fine ensemble. Sam Heron as Irvine displays a beautiful venerability amongst his reserved awkwardness. Alexander Knott as the slightly pompous Quentin exudes passion whilst James Demaine as Winston is beguiling. The trio project a dynamic energy which is absorbing to watch. In contrast, Jack Gogarty as collector Robert is commanding.
Director Ryan Hutton has used surreal transitions between scenes which are both playful and intriguing. His direction is natural with moments of heightened staging. At one point, Irvine directly faces the audience visualising the argument behind him as happening ahead of him. Seeing him in profile at such a key moment is effective and intense. Hutton has also ensured all performers endow the canvas as being highly precious. The men delicately handle the piece and cleverly conceal it from spectators who imagine it to be as beautiful as a Monet! As all action is in one room, lighting could be used more effectively to express a time of day and passing of time.
An original piece which was an utter delight to watch. This show is deserving of a wider audience and I entreat you to watch it on its upcoming tour.
Reviewer: Isla Robinson
Reviewed: 26th November 2018
North West End Rating: ★★★★