Completing its off-west end tour at the Tristan Bates this January, AISHA is a hard-hitting one woman show about the crushing impact of child marriage. Composed by promising playwright AJ, this poignant debut play has been produced by emerging Theatre Company AILIA. Compelling and relevant, this play provides an authentic glimpse into the daily horrors of a child bride kept as a housebound servant and sex slave.
Aisha is an intelligent and innocent girl who has been forced to marry a senior relative at 14. Having moved from London to Nigeria, with no freedom she is forced to submit to all his sadistic demands. Alex Jarrett as 17-year old Aisha, delivers an incredibly brave and passionate performance. Her zeal for this piece is evident as she brings utter commitment to this demanding role. Spectators are quickly absorbed into the narrative through her visceral intensity. Her open and direct address, often involving spectators in the storytelling, quickly engrosses the audience who are longing to discover how and why she's been imprisoned.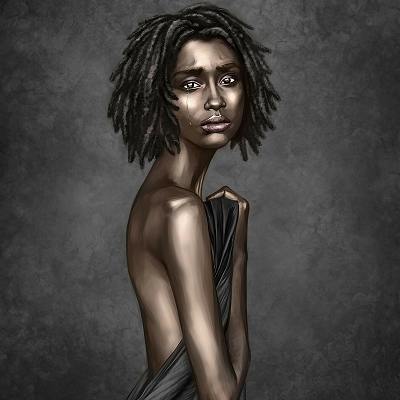 Jarett embodies her trauma through convincing physicality. Director AJ has encouraged her to express physical and emotional pain through the extremities in gesture which is both harrowing and compelling.
The piece is written almost entirely in verse and spoken word. AJ's writing is often explicit in expressing trauma, but through effective use of poetry he paints specific images of what would be unspeakable experiences. When processing the horrific conditions of Aisha's abuse, one can only compare the level suffering to the heightened levels of Shakesperian tragedy. Jarrett effortlessly delivers the text as if it was contemporary speech. The rhythmic structure could be restrictive, but Jarrett's emotion-fuelled performance is both free and varied in expression.
Julian Starr's inventive sound design clear establishes an atmosphere of dread. At moments when Aisha's abuser returns audio cues, such as the turn of the key, inspire a response of fear. Jarrett compels the audience to listen to these noises - either audible or imagined. A repetitive refrain of Nina Simone's Blackbird "Why you wanna fly….you ain't never gonna fly" perfectly captures Aisha's inability to be free from her entrapment.
A production which is both thought provoking and excellently delivered. All creatives involved in this production are clearly zealous about raising awareness of this unacceptable practice of child abuse. The piece does well to challenge common misconceptions through powerful storytelling. An incredibly profound performance
Reviewer: Isla Robinson
Reviewed: 04th January 2019
North West End Rating: ★★★★★