Debuting at The White Bear this January, Umbra Theatre premier their eccentric new production 'The Empire Has Fallen'. Set after a nation has been freed from dystopian dictatorship, this curiously dark comedy examines whether a tyrannised nation can be reshaped to embrace democracy.
After rebels have abolished a reign of terror, the victors must determine how to establish a well governed society. It's soon apparent that the provisional council don't know what changes to prioritise for this new nation or how to implement them. Grumm (Emily Thompson) assumes the position of president and urges for democracy, but no one really understands what that is or why they should listen to her. In a bid to keep citizens calm, a public announcement is made by the newly appointed Minister of Apologies, Barnabus (David Fenne). Expressing regret for the state's previously violent acts, he appeals to the people to embrace their freedom of speech- but after years of being oppressed that's easier said than done.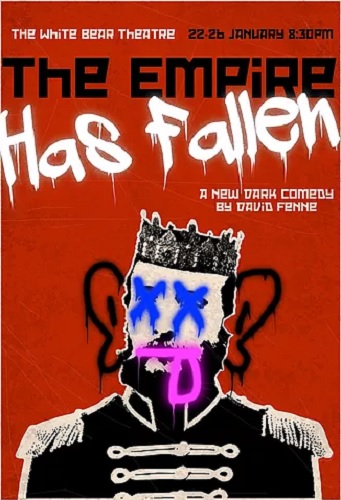 David Fenne's debut play is certainly an intriguing concept. The plot is in need of some development but shows great potential. The play mostly focuses on Grumm's leadership struggles, but this doesn't drive the narrative enough. Mostly, Fenne offers glimpses into how different citizens are adapting to this new reality. These scenes are highly enjoyable, but they often felt disconnected and more like a series of funny improvisations. Though certainly oppressive, the world of the play could be better established. It was hard to identify the era or understand how Grumm was so enlightened about democracy when all others remained ignorant. Personally, I feel the story would be far more exciting were it to establish its own reality rather than make constant references to dystopian novels.
Directed by Michael Powell, staging is simple but effective in this intimate space. Great attention to detail has been paid to both costume and graphic design. Witnessing the state colour scheme transform from an angry red and black to a soft blush pink was highly effective. Occasionally, potentially humorous moments are mistimed due to static staging or poor delivery. Powell would do well to iron out these areas as the show develops.
This cast of five work particularly well as an ensemble. Frequently multi-rolling, they ensure their parts are distinct in performance. Lottie Davies was particularly engaging as the vibrant reporter, Tonya. Her wonderfully entertaining characterisation was delightful to watch, especially when she dealt backhanded compliments to a rival presenter. Elliot Burton evidently has an apt for comedy. His endearing portrayal of a simple citizen in a focus was most amusing.
The ending felt particularly rushed. Backstories were shoe horned in and there was a last minute character introduction, which was beautifully delivered, but somewhat misplaced. The closing image felt inconclusive and could be clearer.
An incredibly ambitious idea to undertake in a one act production which must be commended. A brilliantly original concept that's enjoyable to watch and has a lot of potential with development.
Reviewer: Isla Robinson
Reviewed: 22nd January 2019
North West End Rating: ★★★