So, the 1960s is often referred to as a period of contrasting and complex, inter-related trends; a mix of culture and counterculture that revolutionised fashion; music and dance styles. Fast forward to 2019 and London's newest addition 'Rip It Up' is certainly no exception to this, presenting its own level of complexity and a new contrast. In true 'Strictly Come Dancing' style 'Rip It Up' offers a confusing but energetic mix of professional and "non-professional" abilities in its new West End home, the Garrick Theatre.
On one hand we have vocalist Jill Marie Cooper who gave a stunning opening night performance. Cooper is certainly not billed as a headliner; she's not on any of the posters or marketing materials; and let's face it this is supposed to be a "dance" show! However, the seasoned female vocalist took expert command of the stage, and from the moment she started singing it was clear who the star of this new show is going to be.
Although Cooper is surrounded by a band; a very strong dance ensemble and four celebrity male principal performers, it is simply impossible to take your eyes off her whenever she is on stage. Her vocal abilities outshining and often detracting from the choreography for the duration of the two-hour show. She belted out number after number from all the best-known artists of the 60s including,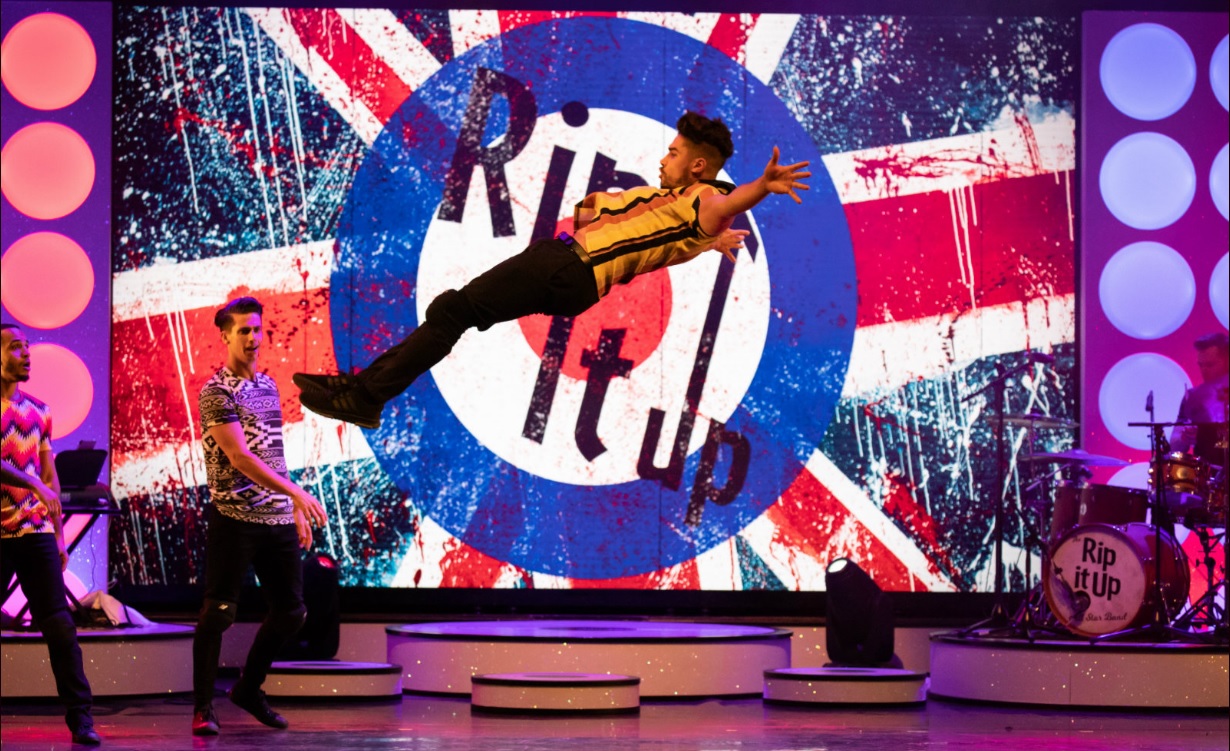 The Mammas and the Pappas; The Beatles; Aretha Franklin and a jaw dropping medley of Tina Turner hits. A true star in the making and a welcome relief to what could otherwise without her, be a very slow and lack lustre production.
Aston Merrygold also gave a brilliant performance and demonstrated that he is an all-round vocal performer with exceptional dance and movement ability. He showed strength in his vocal ability for 'Build Me Up Buttercup' by The Foundations and Procol Harum's 1967 hit 'Whiter Shade of Pale', and his interpretation of Gareth Walker's lyrical choreography to Bob Dylan's 'Knockin' on Heaven's Door' was truly breath taking.
In complete contrast to Cooper and Merrygold, the other three male principal performers (Louis Smith, Harry Judd and Jay McGuiness) demonstrated a range of performance abilities from mediocre to completely uncomfortable, including some flat vocal notes and misplaced and un-extended fingers and toes as they seemed to barely get through Walker's choreography and not stand up to the technical skills presented by the wider cast.
The overall "journey through the decade" concept for this show lacks any meaningful narrative, with a format more accustomed to Saturday night television specials than a large-scale theatrical show. In addition, the use of a big screen and VT messages from the likes of Lulu and Tony Blackburn in Steve Howell's set design appear to be present only as a filler for costume changes rather than adding any value and really didn't hit the mark.
However, despite its shortcomings the show finished with 'Dancing in the Street' and the whole audience on their feet and dancing. It can't be denied that 'Rip It Up' certainly celebrates some of the most iconic sounds, sights and movement of the 60s and the team of ensemble performers deserve a mention for their delivery of Walker's exceptional 60s inspired choreography, Carol Howard's brilliant costumes and Barnaby Dickinson's well-arranged musical score. Notable performances from Dancers Rose Wild and Tanya Foy who both demonstrated their technical abilities; performing with a vibrant energy throughout, whist Ant Brant (Guitar and Vocals) supported by his band mates, gave a consistently strong performance that surely added another dimension to the overall production.
Rip It Up is playing at The Garrick Theatre until 2nd June 2019. https://www.nimaxtheatres.com/shows/rip-it-up/
Reviewer: Alan Stuart Malin
Reviewed: 12th February 2019
North West End Rating: ★★★