There was a definite vibe of "free love" in the air around New Wimbledon Theatre last night as the premiere of 'Hair the Musical' hit the UK with a powerful and unmissable production.
Having already played at Hope Mill Theatre (Manchester) in 2016 and The Vault Theatre (London) in 2017, this now touring revival of Gerome Ragni and James Raddo's 1967 hit is the joint love child of Producers Aria Entertainment, Senbla and Hope Mill Theatre and living proof that even 52 years on the rock-opera genre is alive and kicking and guaranteed to bring an audience to its feet.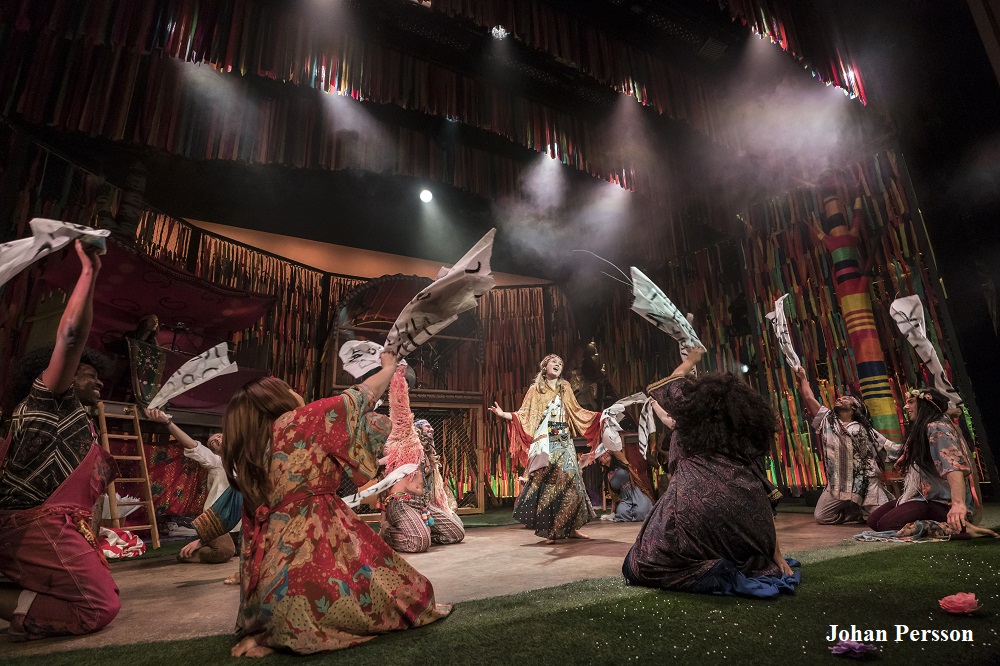 For those who don't know the production, 'Hair the Musical' opened in London in 1968 a day after the abolition of theatre censorship that had been in place since 1737. This meant that it was able to portray nudity; drug use and profanity. Shocking at the time the plot follows a tribe of hippies who are pro-drugs and free love and against the Vietnam War. One of the tribe, Claude (Paul Wilkins) gets his draft papers and has to decide whether to burn them and flee to Canada or to report as instructed and go off to fight for Uncle Sam.
Of course in 2019 the content is far less shocking and much more entertaining, but the overall content continues to be relevant with many of the cultural; social and political divides as relevant today as they were in 1967. Of course we don't see naked hippies running around town anymore, but their core values are still palpable and in the same week that more than a million people joined the Brexit march before rallying in front of Parliament; it's impossible to watch 'Hair the Musical' and not feel the hippy ideology or want to sing and dance with reckless abandon.
Visually 'Hair the Musical' is very enticing with a bright and colourful psychedelic lighting design from Ben Rogers; intoxicating and sexual choreography from William Whelton and 60s inspired set and costume design by Maeve Black. However without doubt the powerful music is what drives the popularity of 'Hair the Musical'. The score is widely known and includes 'Aquarius', 'Good Morning Starshine' and 'I Got Life' as some of the most recognised songs. This new touring revival didn't disappoint, throwing out high impact; full-throttle musical numbers and a masterclass in ensemble vocals. Although some voices were stronger than others, led by Jake Quickenden in the role of Berger the charismatic ensemble pulled together to produce what can only be described as world class musical theatre.
Stand out vocal performances were given by Natalie Green (Cassie), Alison Arnopp (Jeanie) and Aiesha Pease (Dionne) but the real star of the show is Quickenden who takes command of the stage as he struts around half naked; oozing sex appeal and demonstrating fantastic vocal ability along with controlled comic timing and acting ability.
The overall look and feel of this version of 'Hair the Musical' will be sure to leave the audience breathless with excitement and beaming with smiles and love for the cast and characters. This is a highly recommended and totally unforgettable experience.
Reviewer: Alan Stuart Malin
Reviewed: 28th March 2019
North West End Rating: ★★★★★