It's twenty-four years old and still a masterpiece of modern choreography, a feast for the senses that never fails to bring an audience to its feet. In every way Swan Lake is pure dance brilliance.
For those new to the production, this version of Swan Lake is slightly different from the traditional tutus and pointe shoes. Of course, there are still the same types of characters and basic plot line, but the traditional ballet rule book was thrown in the garbage for this one, and Mathew Bourne shows us an all male cast of swans dominate the stage; half naked; muscled and virile. In 1995 this was ground-breaking dance theatre and in 2019 it remains so. This latest (only slightly updated) touring production maintains all the power, passion and comedy of the original, a truly breath-taking spectacle.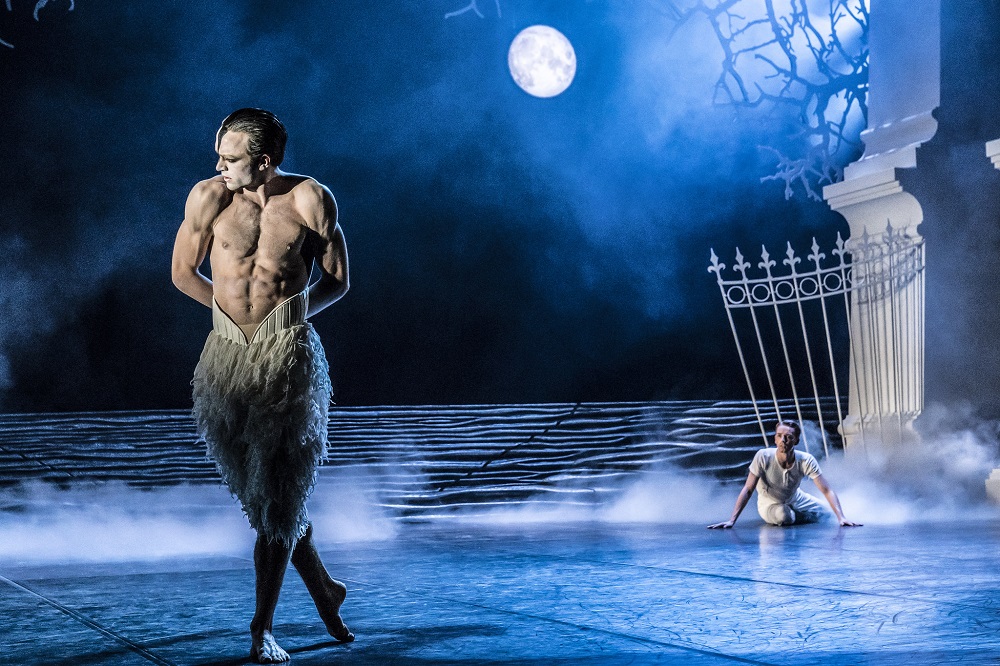 The talented Max Westwell takes up the role of The Swan/Stranger, and from the very first entrance he commands the stage. A self-assured; confident and technically brilliant dancer, Westwell embodies the homoeroticism of his character to perfection. He is strong and utterly mesmerising, and the audience crave his presence whenever he is not on stage. The perfect dancer to play this leading role.
In complete contrast to Westwell is his co-leading man and Prince, Dominic North who dances with precision and finesse and compliments Westwell in every sense. The pas de deux between the two male dancers are thrilling to watch as the two synchronise, perfectly in love.
Westwell and North are joined on stage by a huge ensemble of talented dancers/characters covering all roles across the fairy tale that is Swan Lake, all equally strong as performers but ultimately a force to be reckoned with as an ensemble. Bourne pulls on the traditional tragic ending for Swan Lake with a crescendo of male swans attacking the Prince and his Swan in his bed, a truly heart-breaking ending to a magical performance.
Lez Brotherston's Stage Design provides a magical setting for the on-stage drama that flips beautifully between royal court and lake side scenes; coupled with Lighting Design by Paule Constable the whole experience is a feast for the eyes.
Bourne's Swan Lake is a timeless masterpiece that will continue to pull in audiences for years to come. Playing to packed theatres across the World it is guaranteed to please those die-hard fans as well as those new to the Swan Lake experience. Tickets are available at: https://new-adventures.net/swan-lake
Reviewer: Alan Stuart Malin
Reviewed: 16th April 2019
North West End Rating: ★★★★★