The Calm Down, Dear series at the Camden People's Theatre has been running for a number of years. A celebration of powerful, female-led theatre, it feels much needed right now, and with the ongoing abortion debates across the pond still ringing in our ears, The Eden Effect is a good place to start.
The play opens with the three female leads – Wren, Ashley and Tiffany – living as outlaws in the aftermath of their revolution against The Eden Law. As the story unfolds in a series of flashbacks, the women reminisce about their past lives and loves and the events that led them to be living this way.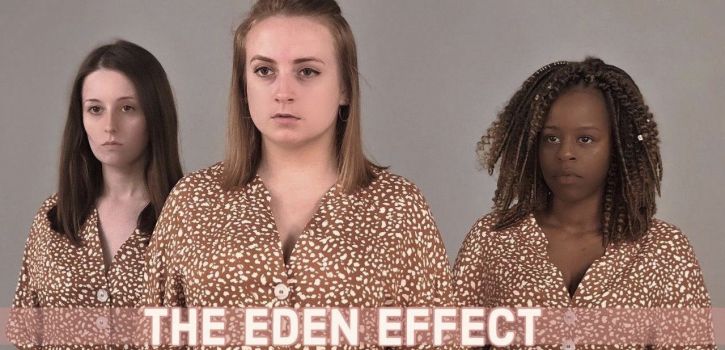 We learn about the Eden Effect – a radical feminist movement spearheaded by Tiffany (or Eve to her social media followers) that wants to see women not only taking back control of their bodies but grabbing 'the lionesses' share', with some terrible consequences.
The Camden People's Theatre is an intimate set up, and at times the stage felt a bit crowded with the cast of three and set on stage, which made for some slightly clunky scene changes. That said, the cast all gave engaging performances, sweetly capturing the camaraderie and strength of female friendship as well as the anger and passion of revolution. The production takes a new look at a current issue, expressing the idea that whatever side of a debate you're on, there is always such a thing as going too far.
With echoes of The Handmaid's Tale and The Power, The Eden Effect is a fierce piece of theatre that deals with some complicated ideas. I'm excited to see what else the Calm Down, Dear series has in store, and I'm confident that the coming weeks will offer some thought-provoking theatre and a welcome tonic in the current climate.
Reviewer: Zoe Meeres
Reviewed: 28th May 2019
North West End Rating: ★★★