Camden People's Theatre was once again home to a packed audience for yesterday's instalment of Calm Down Dear 2019, the sixth year of the charity theatre's annual feminist festival. Last night, Cheap Thrills presented their production; Be my Bosom Buddy. The 'feminist comedy' said to explore female friendship and discussed outcomes/resolutions to capitalism, feminism and quantum physics.
Made up of duo Noemi Gunea and Grace Lambert, this company centre their work around vulnerability and social pressure. Both artists, they created a performance that highlighted many topical issues and ideas. Feeling rather unnatural, they recreated their own natural conversations and took us to their 'multiverse' where they 'create something out of nothing'. Unfortunately however, I'm not quite sure what it was they created in the 60 minutes of performance.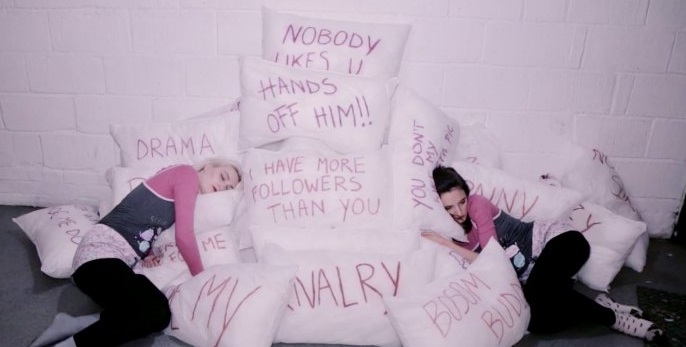 The production began with a long 15-minute montage of female pop songs which the pair rather awkwardly danced a long to, causing a few laughs here and there. Possibly intentionally, we were left waiting for a long time for any dialogue/narration to begin, leaving the majority of the audience seemingly disengaged.
Although mostly just awkwardly staged conversation, pop music and an odd inclusion of Grace's rather lovely yet misplaced singing, there were some moments that were genuinely funny. Projected news broadcasts created by the pair bulleted fictional news such as the decline in popularity of rom-coms as women turn to violent boxsets on Netflix and the announcement of Topshop closing for a year to 'find themselves'. This use of media caused some reengagement of the audience and cleverly created comedy.
Be my Bosom Buddy did clearly attempt to highlight existential crisis, the lives of single struggling millennial women and friendship. However, I can't help but feel the pair were trying too hard. Maybe over-rehearsed yet under-developed and therefore lacking in any real substance that I could hook on to.
I don't want to insult my own intelligence, but I just simply didn't get it. Sometimes messages in more satirical or political productions like this can become warped and are interpreted differently by each individual. For me personally, nothing in Cheap Thrills' performance seemed to resonate with me and the ending was too abrupt and consequentially underwhelming.
Reviewer: Jessica Battison
Reviewed: 4th June 2019
North West End Rating: ★★