'Bare: A Pop Opera' is a coming-of-age musical (opera) with music by Damon Intrabartolo, lyrics by Jon Hartmere, and a book by Hartmere and Intrabartolo. Peter (Daniel Mack Shand) is in love with Jason (Darragh Cowley), his Catholic Boarding School roommate. Peter is a nerd-type whilst Jason is a cool kid, sporty and popular. Both wrestle with their sexuality in different ways with an ultimately tragic consequence.
'Bare' is a huge musical with lots of energy that needs to be performed on a reasonable platform/space to ensure that the book and songs are not lost under the accompanying band. The decision to squeeze the production into The Vaults theatre was a mistake that may cost the success of the show. Director, Julie Atherton and Designer, Libby Watson have done their best to make use of the limited space by using a raised catwalk stage to present the show and limited set pieces on casters or carried on by cast members, but ultimately this isn't enough and in all honesty came across as very chaotic. The cast were unable to hide the fact that the stage is too small for the size of the production and at times it was impossible for the audience to keep on top of the narrative.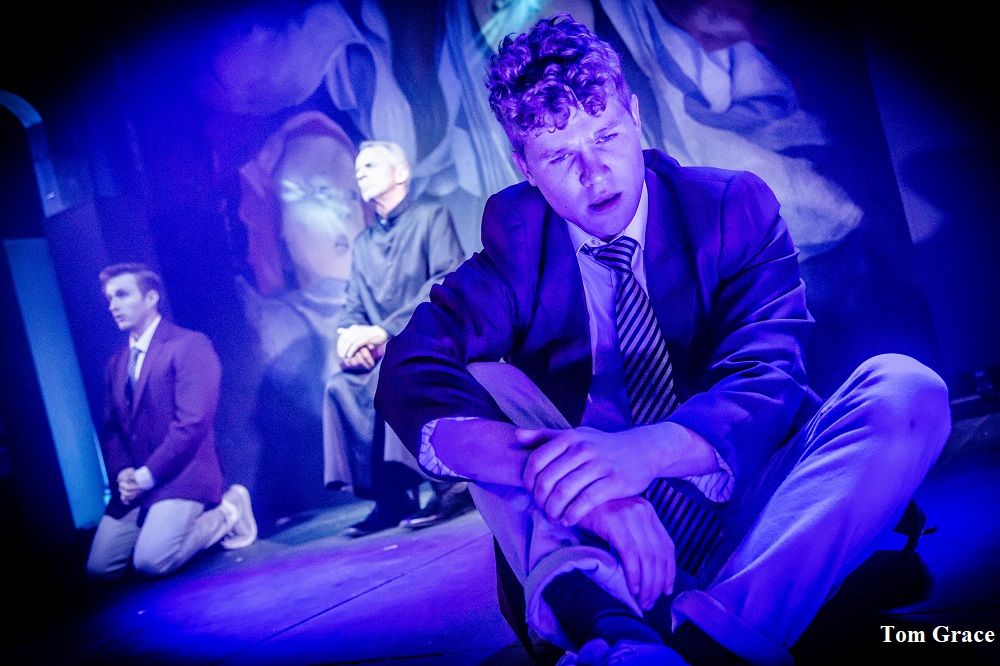 The seating layout means there are times throughout the performance that viewing can only be guaranteed by leaning in or turning around to see the action. The decision to include a massive maple tree (unrelated to plot until the finale) also hinders both the use of the available space by performers but also audience sight lines.
Ross Portway's Sound Design is also lost in translation here at The Vaults. At times it is impossible to here the vocals over the band to the extent that some musical numbers were completely lost on the audience. Throw in a cast of 16 stomping around on a wooden stage and banging tables and chairs in an echoing tunnel-like performance space and all hopes of a good musical production are quickly lost.
The saving grace of this production is the energetic, enthusiastic and vibrant cast who try their very best to deliver a quality performance under such limited conditions. However, there are also some significant casting errors here and in general the production felt bigger than the cast was able to deliver and the vocal demands of such a big production seemed to challenge even leading men Cowley and Shand who at times were singing quite out of tune.
Notable performances came from Georgie Lovatt in her professional debut as Nadia. A very strong comic actress with strong vocals. She delivered well on her two solo numbers: "A Quiet Night Home" and "Spring" and had the audience laughing at all the appropriate moments with some of her more risqué dialogue. Seasoned Broadway performer, Stacy Francis of course outperformed her junior colleagues as Sister Chantelle. Her interpretation of "911! Emergency" and "God Don't Make No Trash" prompting cheers from the audience and a pleasant reminder that 'Bare' is in fact a professional London production and not a local amateur production in an urban church hall.
On paper 'Bare' has lots of character, it has all the ingredients of an award-winning musical that will stand the test of time. It's 19 years old this year, but the themes are as zeitgeist as they were in 2000: a high school setting, buckets of teen angst, drug use, pregnancy, complicated family dynamics, crude humour and lots of tragedy that brings it in line with the likes of 'Rent' and 'Spring Awakening'. However, this latest revival production presented by SR Productions completely misses every mark technically and the result is a less than pleasurable viewing experience.
'Bare: A Pop Opera' continues its run at The Vaults theatre until 4th August 2019. For further information or to book visit the theatre's website here.
Reviewer: Alan Stuart Malin
Reviewed: 27th June 2019
North West End Rating: ★★