"Mildred Hubble Spells Trouble", but not in the latest musical production to open in the West End. In fact, it was no trouble at all to watch this rather magical and highly entertaining cross over from Jill Murphy's well known and highly celebrated children's book series to mainstream musical theatre production of The Worst Witch by Emma Reeves (Adapter).
For those that don't know the book series, we are introduced to Mildred (Danielle Bird) on her arrival at Miss Cackle's Academy as the only non-witch at the school, and we see the witching world through her eyes as she makes friends with Maud (Rebecca Killick), learns how to fly a broom, make potions, train her 'familiar' (a sock puppet tabby cat) and try her very hardest to find her place in the world.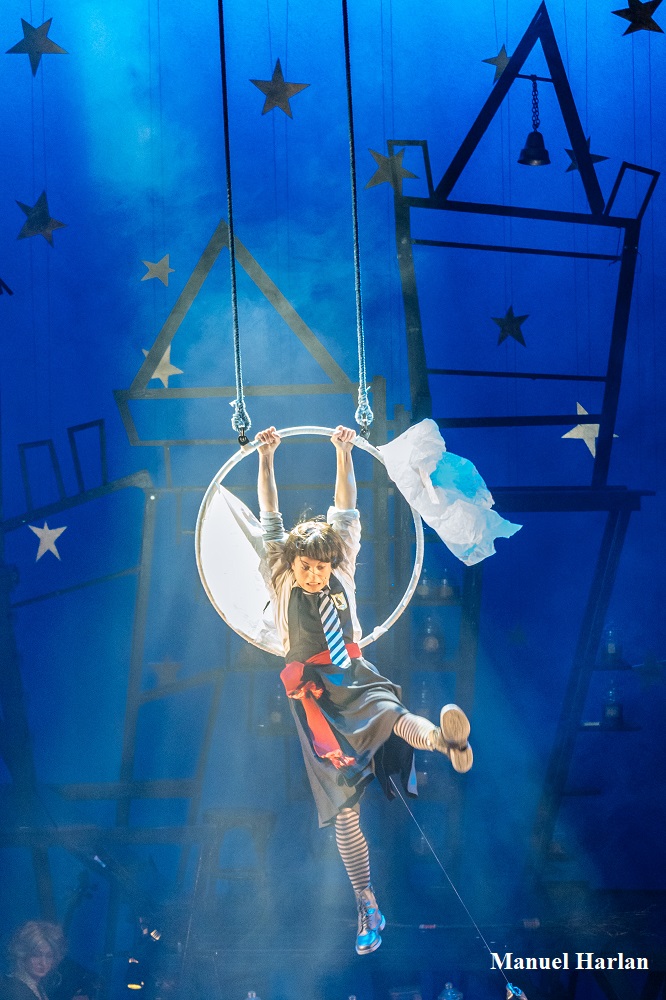 In this new adaptation directed by Theresa Heskins, Mildred and her friends are staging a play to non-magical people (the West End audience of "plebs") about some of the adventures from their first year. In true Mildred Hubble style chaos and clumsiness are guaranteed, as well as a magical danger threatening the future of the school. The plotline (presented as a play within a play) is essentially about "fitting in" and the differences that we all face day to day. It's about overcoming adversity, standing up to bullies and it has inspired generations of young people for decades.
The Worst Witch is an eleven strong, all-female ensemble piece that demonstrates purpose and solidarity through both the narrative but also the technical skill and ability of the performers. It has a multi-talented, energetic cast that fly across the stage demonstrating skills in acting, singing, dance, musicianship and puppetry that leaves the audience smiling.
Bird is simply brilliant as Mildred, she fully embraces the clumsy, bumbling novice witch, bringing the enthusiasm and energy of the character from book to stage physically and vocally. However, the stand-out performance was given by the exceptional Polly Lister who plays with expert comedy timing the roles of sisters Agatha/Miss Cackle. In one scene we see Lister play both roles simultaneously, donning a double costume and wig to deliver with skill a classic comedy piece of a character having an argument with herself. A truly inspiring actress who had the audience old and young rolling around in laughter with her larger than life characterisation.
The Worst Witch has several catchy, original musical numbers by Composer, Luke Pottter and some very lively choreography from Beverley Norris-Edmunds to engage the audience. There is also an accomplished on-stage witch band featuring Drusilla (Meg Forgan) on bass, with Miss Bat (Molly-Grace Cutler) on piano and Miss Drill (Megan Leigh Mason) on guitar and Griselda (Lauryn Redding) on sax. But what is truly brilliant about the production is that Heskins' direction has smashed down the fourth wall in order to ensure the audience is fully immersed in the narrative and the production from the start, a massive win with the younger audience but also a bonus for the adults who are able to pick up several jokes and more mature references aimed at specially at them.
Murphy's books about Mildred Hubble have sold more than five million copies worldwide and have sparked the imaginations of generations of little ones but this latest version is a complete production with all the fun elements of a family friendly success: comedy, dance, music and magic. There is even some very clever broomstick flying! Reeves adaptation has everything required for the perfect witch's potion to spellbind and win over London audiences and is highly recommended.
The Worst Witch is on a limited West End season ending on 8th September. Information about tickets can be found on the theatre website:
https://www.nimaxtheatres.com/shows/the-worst-witch
Reviewer: Alan Stuart Malin
Reviewed: 28th July 2019
North West End Rating: ★★★★