I have to say that I'm not normally too much of a fan of contemporary musical theatre. I'm not sure what it is exactly that makes me like this, perhaps that sometimes I feel like the music can be overly complicated and a bit self righteous. I am very pleased to say though that I have found the exception to my rule with Falsettos at The Other Palace.
Falsettos is a musical that beautifully juggles comedy and drama, teasing you with laughs throughout that make the gut punch at the end of the show hit even deeper.
This cast is one of the most well rounded groups that I have seen assembled in a long time. Joel Montague was very strong as Mendel, with a beautifully clean voice and exceptional comedic performances throughout. Laura Pitt-Pulford was good as Trina, showing the characters breakdown hilariously in act one but also showing a real vulnerability.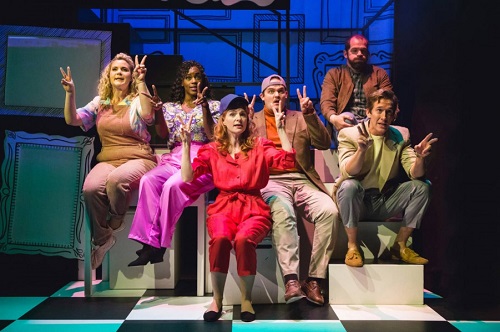 Daniel Boys was exceptional in the role of Marvin, with some fine acting and a beautiful voice, the character of Marvin really engages with me throughout this show and that is in no small part down to Boys' performance.
Oliver Saville was good as Whizzer, with some brilliant acting at the end, although he did sound slightly vocally tired on the night. Gemma Knight-Jones and Natasha J Barnes we're both wonderful as Charlotte and Cordelia respectively, with a fantastic vocal performance, particularly from the latter. However, my absolute standout performance tonight has to go to Albert Atack as Jason. Atack showed such command of the stage for such a young man and the way he controlled his audience was truly admirable! Well done young sir!
The performance was beautifully directed by Tara Overfield-Wilkinson, with great use of the limited space on the stage and great care with such a tender subject. This was a truly admirable job. PJ Mcevoy deserves credit for his projection design on this production, this really helped make it for me.
Overall, I would recommend Falsettos in the highest regards. This is a production that needs to be seen by all who can, and I really hope that it reaches as wide an audience as possible. Until 23rd November https://www.falsettoslondon.com/
Reviewer: Adam Craddock
Reviewed: 5th September 2019
North West End Rating: ★★★★★