I am not a love story type person. I don't do great love affairs or get washed up in all flowery emotion and all that ra-ra-romanticism. Or, well, that's what I thought. That was before watching 'Old Stock: A Refugee Love Story'. Because with this, you just can't help falling in love. It is a show you cannot fail to fall in love with.
So the story is simple on one level – two refugees Chaya (Mary Fay Coady) and Chaim (Eric Da Costa) meet and fall in love in Canada in 1908. It's a real story, for the most part, that award-winning playwright Hannah Moscovitch has unearthed from her paternal family. But the deepness comes about from the layers of family background; their hardships, their hurt, their emotional baggage they carry around like wilted flowers.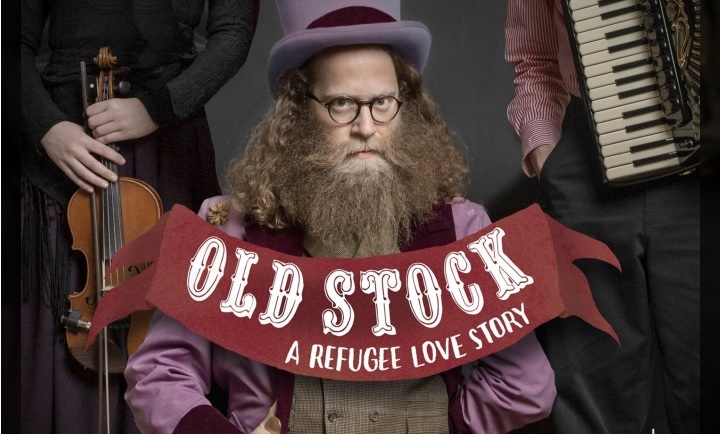 And then enter the spectacular rock star showmanship of The Wanderer (Ben Caplan) who simultaneously is the star of the show and the narrator. It is a performance he was born to do. And thank God he quit his ten-year theatre hiatus to return to the stage for this show.
Dressed like a vagrant flâneur Caplan owns the stage. Like dominates it. He is way more a performer than I have ever seen in my life. I am in awe at his awesomeness. Singing, prancing, dancing, this is a musical like you have never seen before – it is awe-inspiring in its lyrics (clever, insightful, funny and informative – how the heck is that even possible!) and toe-tappingly dance-alongy.
The deftly crafted scenes featuring Chaya and Chaim are so on cue, are so fantastically recreated I felt I was transported to their world. Funny, touching, poignant – their relationship is so much, and more, than what you could ever hope from any love story. I am in love. Totally in love.
'Old Stock: A Refugee Love Story' is probably one of the most remarkable shows I have ever had the joy to watch. The songs will stay with me. The expressions will make me smile for years to come. And Ben Caplan, well, what can I say apart from: I want more! https://www.wiltons.org.uk/whatson/572-old-stock-a-refugee-love-story-
Reviewer: Samantha Collett
Reviewed: 18th September 2019
North West End Rating: ★★★★★