Translating an Italian opera into English is no mean feat. Transposing that same opera - Gaetano Donizetti's 19th century masterpiece L'elisir d'amore (The Elixir of Love) - to 1980's Barry Island, Wales is nothing short of madness. But it's a madness that miraculously works.
1832 was the first performance of this opera – almost two hundred years ago. And I struggle to get my head around that, because this unique new take on 'The Elixir of Love' is so current and relevant it makes me wonder what we've been doing for the past two centuries!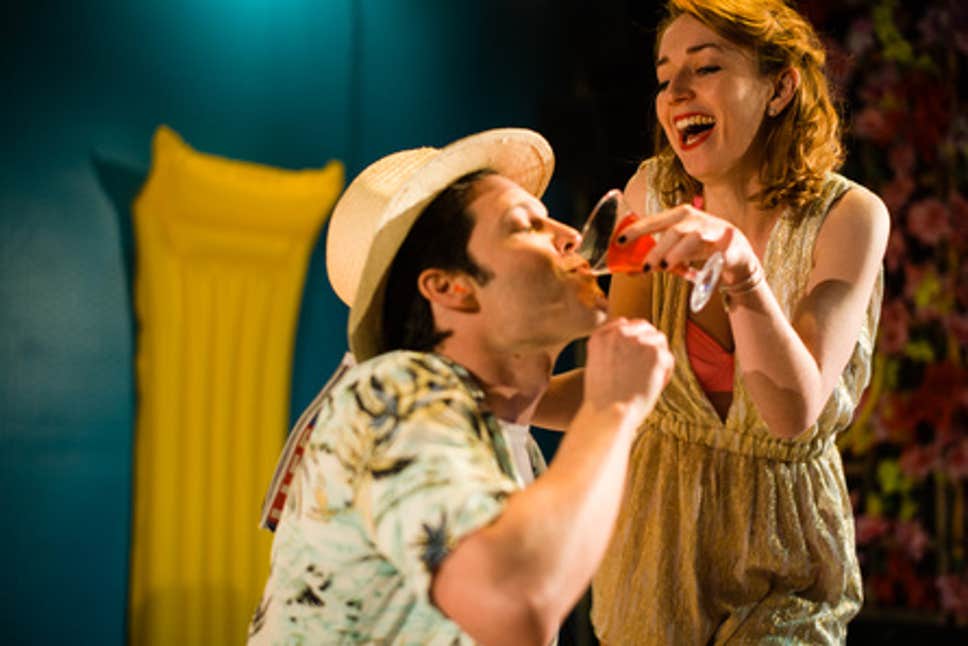 But the story of love is timeless. The battles, the woes, the desires and demands don't really change. Perhaps what is more bewildering and incredibly enchanting about this production is for 'The Elixir of Love' to be presented in such an accessible, comic and intimate way. Five operatic talents (no microphones) and one pianist make up this impressive ensemble.
Nicky (David Powton) is secretly in love with Adina (Alys Roberts), but then Brandon (Themba Mvula) and Gina (Caroline Taylor) get in the way and it all results in a bewitching mash-up of soprano, tenor and baritone magic. Fortunately, Dr Dulcamara (Matthew Kellett) steps in with his medical potions to assist in the pursuit of love…with the effects as you may expect and want to happen. I will say no more to avoid any spoilers.
Chris Harris and David Eaton's new English version of Donizetti's 'The Elixir of Love' is a wonderfully funny, sweet presentation on a classic Italian comic opera. Perfect for opera buffs and novices alike, this intimate production is sure to enchant audiences. https://system.spektrix.com/kingsheadtheatre/website/eventdetails.aspx?WebEventId=theelixiroflove
Reviewer: Samantha Collett
Reviewed: 30th September 2019
North West End UK Rating: ★★★★